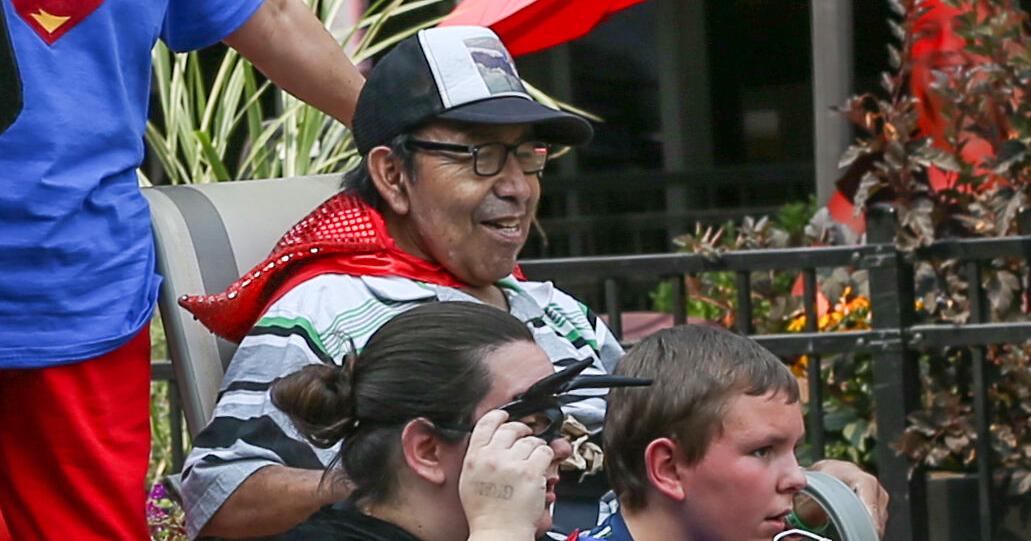 Walla Walla's Favorite Ambassador Jesse Castro Dies at 58 | News
[ad_1]
Walla Walla has lost his best ambassador, the brightest smile, his most fervent fan.
Jesse Castro – just "Jesse" to almost everyone – passed away in the early hours of Thursday, December 9.
Jesse's sister, Isabelle Garcia, said her brother died at Providence St. Mary's Medical Center at 3:15 a.m. He was 58 years old and 17 days before he was 59.
Pneumonia set in after emergency surgery, which followed severe bowel problems and a collapsed stoma. Although Jesse could no longer speak, as death approached, he remained aware of his surroundings and his people until the end, Garcia said.
His people, indeed.
It would be hard to find a Walla Walla Valley resident who has never had a time with Jesse. For more years than most can count, the man with the bike had parked along Ninth Avenue intersections to greet passers-by in their trucks.
Jesse was hard to miss in his yellow safety vest and baseball cap, his bike attached to a trailer. Her huge smile couldn't resist passers-by, reversing many frowns.
While his brother, one of five siblings, was diagnosed in childhood as having a developmental delay, "I think he was smarter than anyone," Garcia said, pride bubbling in his mind. voice.
Nancy and Gary Wiley, who opened the Grocery Outlet in Walla Walla in 1986, were well aware of Jesse's abilities.
For about a decade, he arrived at the Ninth Avenue store to work. As a volunteer job, Jesse specialized in deliveries for many grateful buyers, recalls Nancy Wiley.
"He just started to introduce himself to the store and we greeted him. It got to the point that he would call and ask what time he was supposed to be at work. He would think he was late.
Like a number of special things happening here, it happened without engineering, Gary Wiley said.
"He wanted to be part of something; we wanted to show kindness and a warm welcome, but we didn't want to take advantage of him.
The Wileys have said Jesse looks forward to being on their staff. When new employee shirts arrived, he wanted one too.
It was easy to see a wide involvement of the community in Jesse's life.
"It was a Walla Walla thing," Nancy Wiley said.
"One day a man showed up and wanted to take Jesse's bike and get it ready for winter."
Gary Wiley was amazed at how many people felt connected to the store's # 1 volunteer. He wouldn't be able to name them all, he said.
"Jesse taught a lot of things to most people, in a way that brought something to it… It made us better people. Took us down on all judgments and all barriers.
Sam Waldron concedes that Jesse was his best therapy on a bad day.
Waldron takes care of the trailers at Don Johnson Sales. Now on the west side of town, the sales lot was located for decades next to the Grocery Outlet, and Ninth Avenue was owned by Jesse, Waldron said.
While the whole community cheered on Jesse, there was a core of people who made sure things got done. Waldron considered himself lucky to be among them, he said.
The group made sure Jesse always had a bike, for example. And when their friend could no longer stand on a two-wheeler, Waldron was one of those who raised enough money in a matter of hours to buy Jesse a three-wheeled bike, with enough money in an account. at local Allegro Cyclery for the "Jesse Maintenance Fund".
It was not uncommon for Jesse to travel to the trailer to spend an afternoon in Waldron's office.
"I had food, I had drinks, it was a 100 degree place," he said, hours after learning that Jesse had passed away.
"It was a safe station. In bad weather, we would load our bike and bring it home at night.
Jesse returned the favor by being himself, said Waldron, speaking aloud of memories in a sprint of words.
"It was like having an angel there. He made me happy.
Jesse driving around on a frantically busy day would instantly clear the clouds from the sky, Waldron said.
"I could turn around and face this problem from a different perspective. Here's a guy who faces bad things with the biggest smile, every day.
Pleasing Jesse was fun for everyone. A plate of cookies, lunch, shirts and hats with logos, winter coveralls from L&G Ranch Supply – the nice man loved it all, Waldron said, especially since it connected him to his community.
"It made him feel like he was fitting in.
Indeed, this town was modeled around Jesse, said Liz Pierce, Walla Walla's businesswoman.
Pierce maintains a community social media page and she has made Jesse her poster on numerous occasions.
It was his first published photo of Jesse on his bike waving to riders that quickly drew attention to "My Town Walla Walla" on Facebook, Pierce said.
"I had just started my page, there were a few hundred likes on it. I really wanted something that was "Walla Walla". We were driving home, and I saw him and took his picture. I posted it; I thought I could get 100 new subscribers… (the page) grew by 1500. "
Pierce said she has known Jesse for 30 years or more. He was a regular visitor to his shop on Main Street, where he would open the door and shout "Hey, how are you today?" "
He was welcome everywhere, Pierce said.
She and her husband threw a Jesse 50th birthday party at the Stone Hut Bar & Grill. Although her birthday is December 26, Pierce was unable to organize the party until February.
When people who loved him showed up to celebrate, Jesse was shocked to see them all.
"He was very happy," she recalls.
"He just shone. He had never had a birthday party.
Pierce tended to mother his friend, reminding him to ride safe and constantly urging him to drink enough water to support him on his bike commutes.
The bikes gave Jesse independence, she said, noting that he was born with deformed legs that made it difficult to walk.
On a bicycle, however, Jesse flew in the wind.
A few years ago, the Community Ambassador began to feel a weakness in his limbs and hands, his strength being siphoned off by early dementia.
A bike overturn in front of Super 1 Foods made matters even worse, Pierce recalled.
Jesse's scratched hand developed a staph infection which ultimately required surgery. Subsequently, he did not have the ability to grip his handlebars or apply the brake lever of the bicycle.
With that, Jesse's wings were folded back. The man who was the sun in Walla Walla's sky had been pinned to the ground by a failing mind and body.
After years of enjoying Jesse's enthusiastic presence around the corner of his business address in Chestnut Street and Ninth Avenue, Derek Tall wasn't about to see his boyfriend leave without a fantastic ride.
Tall is the owner of A Cut Above Auto Services and Rhino Liner from Walla Walla and Tri-Cities and an off-road driving aficionado.
On August 4 of this year, he picked up Jesse in a side-by-side ATV and cruised around town, visiting Jesse's favorite stops, especially businesses along Ninth Avenue. Around the corner of Poplar Street – where Jesse had spent years welcoming people to town with his wave and smile – "he just wanted to sit down and watch," Tall said.
"He just watched."
Funeral arrangements are underway, Isabelle Garcia said, noting that Pierce will post the details on social media. The family requests that all donations be sent to Herring Groseclose Funeral Home to help cover expenses.
In the meantime, the house where she had cared for her brother for a quarter of a century felt rather empty, she added.
Drive carefully, Jesse.
[ad_2]