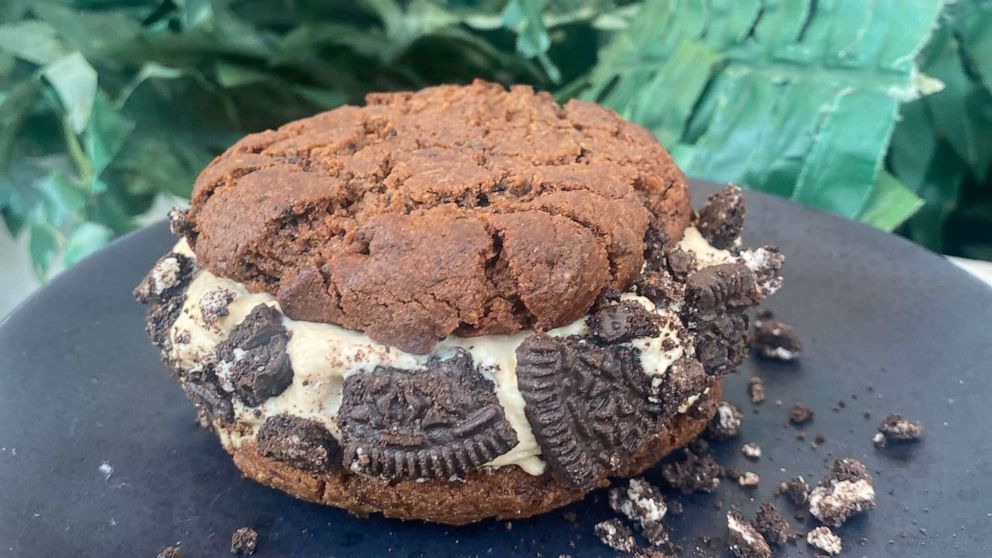 Upgrade your favorite snacks like Doritos Crusted Cauliflower, Rocky Road Bunches, Cookies and Cream Sandwiches
Enjoy National Snack Day with these homemade treats.
Whether your snack is a bag of chips, popcorn, or cookies, we've got some serious chef-approved upgrades just in time for National Snack Day.
Dan Churchill, chef and owner of Charley St. in New York, joined "Good Morning America" ​​to share homemade snacks that combine nostalgic dishes with a dash of creativity to create something fun and new.
Cream Oreo cookies and sandwiches
Ingredients113 g (1 stick) butter, soft
1 cup of sugar
1 3/4 cup flour
1 cup Hershey's Chocolate Chips, melted
1/4 tsp salt
1/4 teaspoon baking soda
8 crushed Oreos
For the cream
4 cups soaked cashews
1 cup lukewarm water
2 tablespoons of maple syrup
1 tablespoon of vanilla
20 crushed Oreos
directions
Preheat the oven to 350 degrees.
Using a hand mixer, mix the softened butter with the sugar. Add the melted chocolate. Stir in flour, baking soda, baking powder and salt. Add crushed Oreos.
Let the dough rest in the refrigerator for 15 minutes. Roll 2 inch balls with the dough. Bake for 13 minutes.
For the cream: In a blender, mix the soaked cashew nuts with the water. Add the water little by little. You are looking for a creamy but thick consistency. Stir in maple syrup and vanilla extract.
Assembly: On a biscuit, place a dab of cream. It should be about 1 inch thick. Cover with another cookie. Roll the sandwich cookie in the crushed Oreo powder.
Honeycomb Popcorn Bars
Ingredients
1 cup dry corn kernels, sautéed in popcorn
1 tablespoon oil
2 tablespoons of salt
3 cups of sugar
1 tablespoon baking soda
1 cup Hershey's Chocolate Chips, melted
directions
For the popcorn: In a saucepan over medium-high heat, drizzle with olive oil. Stir in corn. Let it burst. Add the salt.
For the honeycomb: In a saucepan over medium heat, add the sugar. Cook until it forms a golden caramel (about 6-7 minutes). Remove from fire. Add baking soda. Stir constantly until it thickens.
For the chocolate: In a bain-marie, melt the chocolate.
To assemble: In a mold, add the honeycomb, cover with the popcorn. Drizzle over the melted chocolate. Leave to rest in the refrigerator for at least 1 hour.
Dorito-Crusted Cauliflower Bites
Ingredients
For the cauliflower
1 head cauliflower, cut into florets
1 cup flour
1 1/2 cup milk
1 tablespoon olive oil
Salt and pepper
1 bag of Doritos
For the aioli
1 packet of silken tofu
1 tbsp garlic powder
1 tablespoon onion powder
2 tablespoons olive oil
Salt and pepper
directions
Preheat the oven to 350 degrees. Crush the Doritos. In a bowl mix the flour with the milk and olive oil. Salt and pepper. Dip the cauliflower florets in the batter. Then dip the cauliflower in the Dorito powder.
Bake for 25 minutes.
For the aioli: Mix all the ingredients in a blender until smooth.
Serve the wings with the sauce.
Rocky Road Almond Clusters
Ingredients
1/2 packet of Hershey's Chocolate Chips
1 packet peanut butter chips, melted
1 cup corn flakes
1 cup mini marshmallow
1 cup whole almonds with brown skin, toasted
directions
In a double boiler over medium-high heat, melt the chocolate and peanut butter chips.
Place 1 teaspoonful on a parchment-lined baking sheet. Garnish with marshmallows, cornflakes and almonds.
Refrigerate 15 minutes until set.