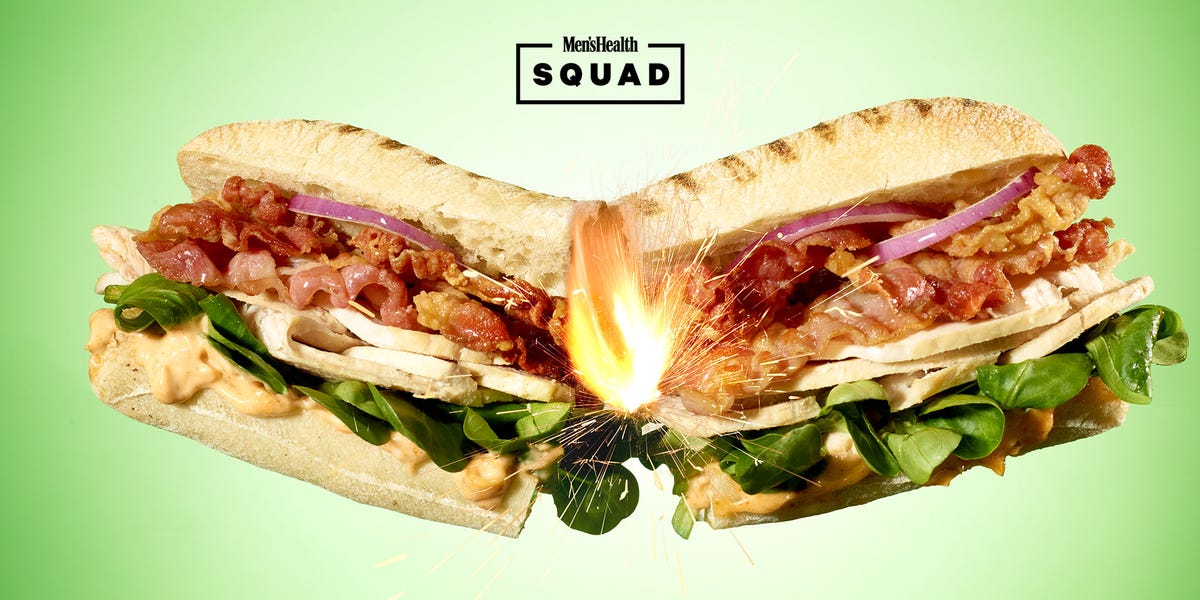 Turn your leftovers into lifting fuel
Time to do: 7 minutes
Calories: 730
Protein: 66g
Crabs: 58g
You will need …
A sourdough bun, large
Turkey breast, 150g, sliced
Crispy bacon slices, 3
One red onion, sliced
Handful of lamb's lettuce
Applewood smoked cheese, 2 slices
For the mayonnaise:
Light mayo, 2 tbsp
Chipotle powder, 1/2 teaspoon
Garlic clove, ½, crushed
Paprika, tsp
A dash of lime
0-3min
Not only does sourdough aid digestion, it also stabilizes your blood sugar response and keeps you full for longer. Cut your roll in half and grill. While you wait, tear up your turkey and place it on a microwave-safe plate, with the bacon slices on top. Film the plate before putting it in the microwave for 90 seconds.
4-5min
With the toasted sourdough, layer the lamb's lettuce, chopped red onion and cheese on half of your bread. Take your meats out of the microwave, ready to finish assembling your sub.
6-7min
Here is the protein. Place your turkey on the cheese and top with bacon. Now add a good portion of chipotle mayonnaise (right) and mash the other half of your sourdough to put a lid on your sub. Now settle in for the ultimate after-gym treat.
This content is created and maintained by a third party, and uploaded to this page to help users provide their email addresses. You may be able to find more information about this and other similar content on piano.io