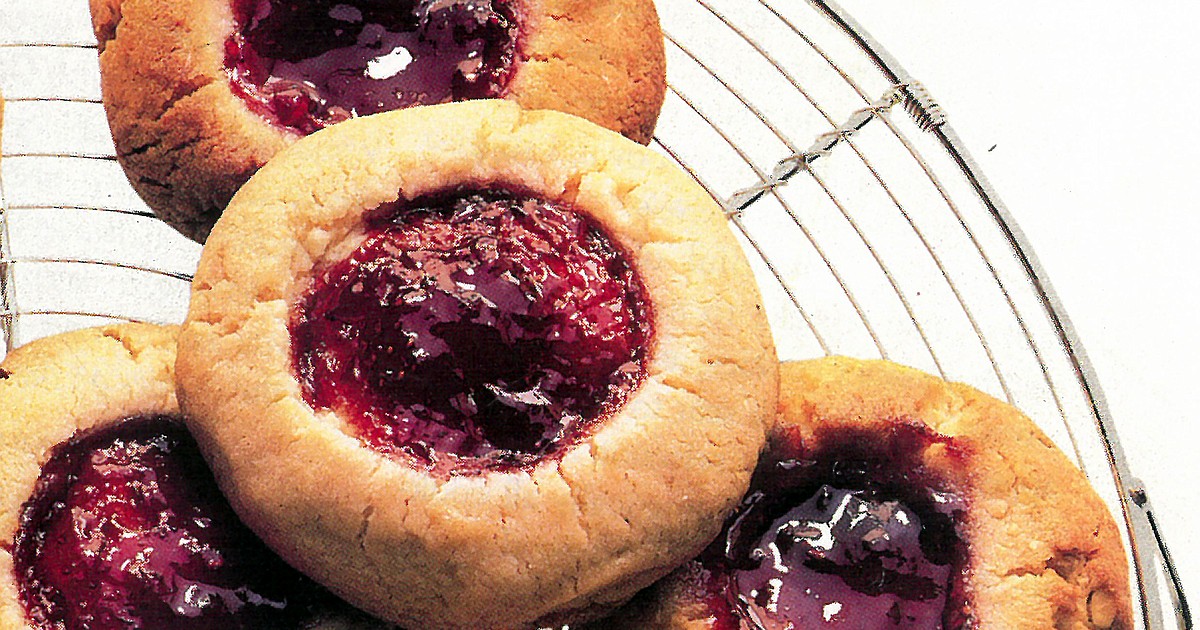 Treasured old cookie recipes still delight
I just cleaned up some old files and discovered a panacea of ​​great old-but-new cookie recipes that live up to the claim of "versatility!" They have almost all been printed before, but are worth repeating from time to time over the years. Our illustrated delights are perfect for Valentine's Day! Here is the recipe.
Almond prints
(Makes about 35 cookies)
1 cup whole blanched almonds, toasted
1/2 cup sugar
2 cups all-purpose flour
1/2 cup powdered sugar
1/2 tsp. baking powder
1/4 tsp. salt
1 cup (2 sticks) unsalted butter, temp.
1 large egg yolk
1 C. vanilla extract
1/2 tsp. almond extract
1/2 cup (approximately) canned fruit of your choice
Combine almonds and 1/2 cup sugar in a blender/processor and blend until almonds are finely chopped. Combine dry ingredients with salt in a medium bowl. With an electric mixer, beat the butter, egg yolk and almond mixture in a large bowl to combine. Add the vanilla and almond extracts. Mix the dry ingredients into the butter mixture in three batches to create a paste. Cover and refrigerate until firm, about 1 hour. Preheat oven to 350 F: With (clean) hands, roll 1 generous tablespoon of dough for each cookie into a 1 1/4-inch diameter ball. Place on 2 ungreased baking sheets, 2 inches apart. Make a depression in the center of each cookie ball with your fingertips or the handle of a wooden spoon (I used mum's old thimble!) and bake for 10 minutes. Re-form the depressions and fill each with 1/2 tsp. preserves. Return to the oven and continue baking until lightly browned around the edges and on the bottom – about 8 minutes longer. Let cool on baking sheets 2 minutes then transfer with a metal spatula to a wire rack and let cool completely.
Yet another Valentine's Day – or special occasion – cookie is this old favorite.
Festive White Chocolate Cherry Oatmeal Cookies
1 cup EACH butter and firm brown sugar
3/4 cup granulated cane sugar
2 large eggs
1 tablespoon of vanilla
2 cups all-purpose flour
2 teaspoons of yeast
1/2 teaspoon EACH baking soda and salt
2 cups uncooked regular oats
2 (6-ounce) packages white chocolate bars, coarsely chopped (or equal amount of white chocolate chips)
1 cup dried cherries (or craisins)
Beat butter (or shortening) on ​​medium speed with electric mixer until fluffy, gradually adding sugars, beating well. Add the eggs and vanilla, beat well, then stir in the rolled oats, white chocolate and cherries. Scoop out 1 tablespoon of batter and drop them 2 inches apart on ungreased cookie sheets. Bake 10 minutes or until lightly browned. Cool 2 minutes on the sheets, then remove to wire racks to cool. Makes about 5 dozen.
Pumpkin Walnut Cookies with Ginger Cream Frosting
2 1/2 cups flour
1/2 teaspoon baking soda
1/4 tsp salt
2 teaspoons pumpkin pie spice
1 cup dark brown sugar, firmly packed
3/4 cup butter, softened
1 large egg
1 cup canned pumpkin
1 teaspoon vanilla
1 cup raisins (optional)
1 cup walnuts, finely chopped
Set the oven to 350 degrees. Combine first 4 ingredients in medium bowl; put aside. In the mixer bowl, combine and mix the sugars, then add the butter and beat well. Scrape down the sides of the bowl and mix again. Add egg, pumpkin and vanilla; blend until light and fluffy. On low speed, stir in the flour mixture. Stir in raisins and nuts until evenly distributed. Drop by tablespoonfuls onto an ungreased cookie sheet, about 2 inches apart. Bake for 20 to 24 minutes or until a tester in the center of the cookie comes out clean. Cool and freeze.
Ginger Cream Cheese Frosting
3 ounces cream cheese, room temperature
4 tablespoons butter, room temperature
Just 1/4 teaspoon ground ginger
2 to 21/2 cups icing sugar, sifted
2 tablespoons (or more) of water
Beat cream cheese, butter and ginger until light and fluffy. Add icing sugar and dilute with water to a suitable consistency. Spread frosting on each cookie, top with pecan or walnut half.
Two essential classics complete our collection of cookies.
Oatmeal and apple cookies
1/3 cup EACH olive oil, brown sugar, molasses
1 egg
1 cup white flour
1/2 tsp EACH baking powder, baking soda
1/4 tsp salt (if desired)
1/4 teaspoon EACH nutmeg and cinnamon
1 cup peeled, grated apples
1/2 cup chopped dates
1 1/4 cup quick rolled oats
Preheat the oven to 400 degrees. In a large bowl, beat together oil, sugar, molasses and egg.
In another bowl, sift together the dry ingredients and mix. Add to oil mixture. Stir in the apples, raisins and oats and mix the ingredients well. Drop by heaped teaspoons about 2 inches apart onto lightly oiled baking sheets. Bake 10 minutes or until lightly browned around edges; remove to wire rack to cool.
Carrot/zucchini cookies
1 cup butter
3/4 cup sugar
1 egg
1 teaspoon vanilla
2 teaspoons of yeast
2 cups flour
1/2 tsp EACH salt, cinnamon
1/2 cup EACH grated carrots and zucchini
1/2 cup chopped walnuts
Set the oven to 350 degrees. Cream butter and sugar, then beat until fluffy; add egg and vanilla. Combine the dry ingredients and beat into the mixture. Stir in carrots, zucchini and walnuts. Place on greased cookie sheets and bake for about 20 minutes. Remove with spatula from foil to wire racks or waxed paper to cool. Glaze if desired after cooling.
Tip: Add 1/3 cup raisins to batter if desired (or 1/2 cup chocolate chips for a surprise treat).
Valle Novak writes the Country Chef and Weekend Gardener columns for the Daily Bee. She can be reached at [email protected] or by phone at 208-265-4688 between 8 a.m. and 7 p.m.