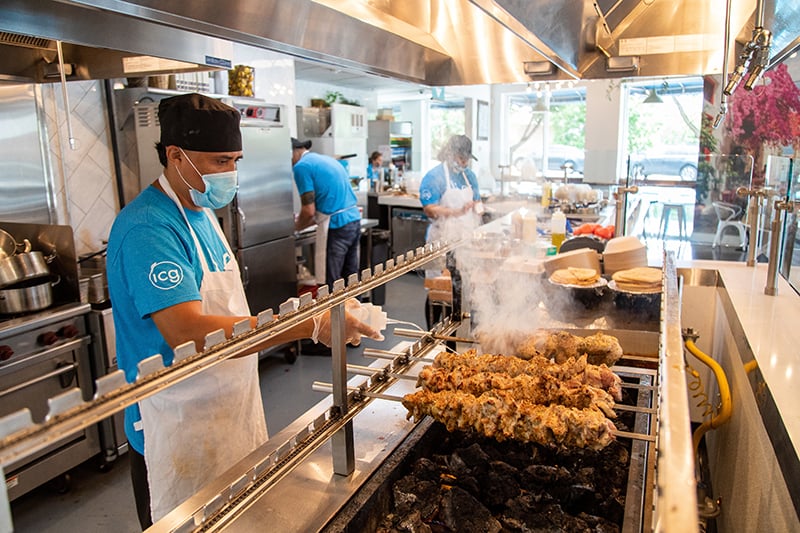 The tradition of Charlotte's Greek restaurants continues
COVID unleashed so much loss and misery that deploring the cancellation of a Greek festival seemed trivial. Not being able to watch teens dance arm in arm while you lick Turkish delight syrup off your fingers at the annual Yiasou festival was not comparable to the kind of sacrifices so many people make.
And yet, walking through the communion hall of the Greek Orthodox Holy Trinity Cathedral on a Friday afternoon in August, it was hard not to mourn another loss. Volunteers were rolling stuffed grape leaves for dolmades and filling freezers with spanakopita for weeks before the church decided to cancel the full festival and drive around with food and pastries.
That didn't stop them, however: the baklava sessions in August again had dozens of church members layering phyllo dough, brushing with melted butter and syrup, and sprinkling with chopped nuts. For the Greek Charlotte, preparations for Yiasou, which usually take place the week after Labor Day in September, begin in July. Cooking sessions are like watching high school kids build floats back home – generations of local Greek families come to catch up and show young people how it's done.
Newcomers to Charlotte are often surprised to learn that this southern city has a sweet Greek heart. Scratch a lot of local restaurants and you'll find feta, oregano, and olive oil layered under the gravy cookies and fried chicken.
The history of the Greeks wandering and settling in distant lands is as old as that of Homer Iliad. In America, Greek immigrants left their mark in cities across the country, especially in humble places like restaurants and cafes. In the south, Greek immigrants arrived in cities like Charlotte and Birmingham at the turn of the 20th century, drawn to jobs in textiles and manufacturing, and cooking jobs that allowed them to hone their English while learning. to cook simple American-style dishes.
By 1923, Charlotte's Greek population had grown so rapidly that the Greek Orthodox Parish of Charlotte was formed. The current location of Holy Trinity became the Metropolis – the regional diocese of the Orthodox Church – for the Southeast from 1955 until it moved to Atlanta in 1980.
Charlotte's Greek population experienced another spurt of growth after WWII, when destruction and a Greek Civil War pushed young people to America. Under the post-war immigration rules, you needed a relative in America to sponsor you. As Charlotte already had a large Greek population, a new wave of cousins ​​and siblings joined them in the late 1940s and 1950s, many of them got dishwasher jobs and short-term cooks while they learned the language, obtained driver's licenses and continued to open their own restaurants.
You can still see community influences as you stroll through the Evergreen Cemetery on Central Avenue, where many Greek families have burials topped with Greek symbols. The names on the tombstones are a reminder of the history of Charlotte's restaurants: Kokenes, Tatsis, Economy, Kastanas, Pappas, etc.
The Greek Charlotte is not ancient history, however. The months since the pandemic closed in March 2020 eroded Charlotte's Greek heritage, with restaurants like Mr. K's, Zack's, and Oakhurst Grill (formerly Mr. C's) closed. But there is still a lot of Greek to explore.
Eat the old-fashioned way
Small village: Want a classic gyroscope? Many Greek Charlotteans will send you to this little West Trade shop, two blocks from Johnson & Wales University. The gyros (chicken or beef / lamb) are topped with fries, but you'll still want to savor a side of Greek fries, seasoned with herbs and sprinkled with feta. 710 W. Trade St. (next to Gateway Village parking garage entrance)
Mad Greek: It's so Greek that if you listen carefully you'll hear the kitchen staff arguing in Greek. A small restaurant with a few outdoor seating, this is a great place for dishes like village salad (no lettuce, just lots of cucumbers, olives, peppers and tomatoes), souvlaki and skewers. 5011 boul. South
greek and hip
Soul Gastrolounge and Bistro Kiki: Owner Andy Kastanas' family came here in the 1960s, and both menus show it. Upstairs, among Soul's craft cocktails and prepared small plates, you'll spot things like saganaki, spicy feta dip, and lamb kebabs. Downstairs, the new Kiki has lots of Greek flavor with some French touches. 1500 Central Ave., Ste. A and B
Ilios made in Greek: Angelo Kaltsounis and Stratos Lambos wowed with their upscale restaurant Ilios Noche and its Greek-inspired menu. They're now completely Greek with Ilios Crafted Greek, a quick and relaxed South End cafe. The dining room is as bright and sunny as the food. 1514 S. Church St.
Worth the detour
The Kouzina d'Estia: If you want to turn a Greek-style dinner into an occasion, head to Belmont in Gaston County and visit Estia's. Longtime Charlotte restaurateur Gus Georgoulias is the owner of the place, which sits between casual and upscale with specialties like moussaka, lamb chops, and grilled octopus. 609 N. Main St., Belmont
Where to buy it
Foods imported from Minos: It's intimidating your first time there. Shoot to the back of a gravel lot next to what looks like a warehouse and you won't see the store. It's in the building on the left, behind the second door. Once you figure it out, you will find barrels of olives in brine; shelves of spices, preserves and cookies; and several kinds of feta: Greek, made from sheep's and goat's milk, Bulgarian and American. Oh, and the selection of canned fish. Minos serves both wholesale and retail customers. "Everyone comes here," says Bobby Makas, son of owner Serafim Makas. "International, American, local customers. " 11016 Monroe Road, Matthews
Greek market of Agora: If you want something more like a retail store, this tiny market has shelves of Greek produce, freezers stocked with Greek fare, several kinds of phyllo dough, and dessert cases full of cookies and pastries. 5122 E. Independence Blvd.