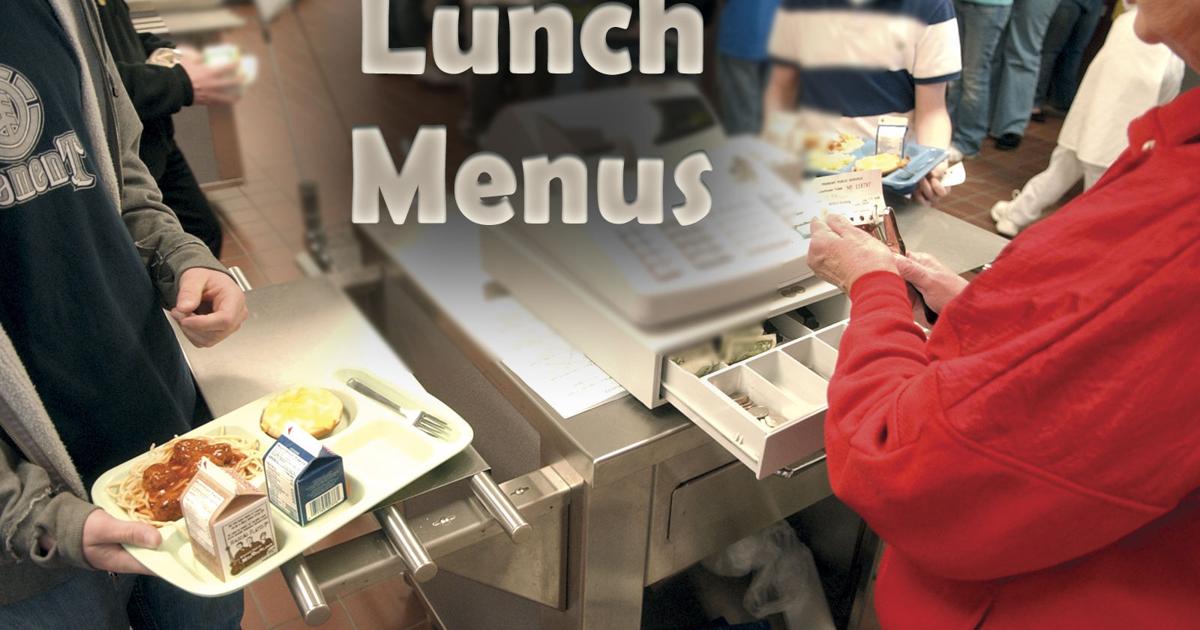 School lunch and dinner menus from March 28 to April 1 | Education
Breakfast and lunch menus for the week of March 28 to April 1
Archbishop Bergan Catholic Schools
Monday: French dip sandwich, au jus, tri tater, fruit, milk.
Tuesday: Chicken alfredo, bread roll, vegetables, fruit, milk.
Wednesday: Breakfast burrito with egg and cheese, small smokies, vegetables, fruits, milk.
Thursday: Chicken patty on a bun, tater tots, fruit, milk.
Friday: Quesadilla with cheese, vegetables, fruits, milk.
Fremont Public Schools
Monday: French toast sticks, sausage, syrup, baked tartars, peaches, box of fruit juice, milk.
Tuesday: French garlic bread pizza, green beans, carrots, fruit mix, milk.
Wednesday: Taco casserole with fries, corn, baby carrots, romaine lettuce, cup of pudding, milk.
Thursday: Hot dog on a bun, peas, oven fries, diced pears, Doritos, milk.
Friday: Cheese pizza, vanilla snack, baby carrots, mixed vegetables, cup of applesauce, milk.
Cedar Bluffs Public Schools
Monday: Pop-Tart; Hot dog.
Tuesday: Scrambled eggs; drumstick and mashed potatoes.
Wednesday: Eggos; Hamburger.
Thursday: choice of chef; cook's choice.
Logan View Public Schools
Monday: Mini waffles; popcorn chicken, mashed potatoes, bun.
Tuesday: Eggs; cheeseburger, macaroni.
Wednesday: Pizza lunch; chicken sandwich, tri tater.
Thursday: Egg Tornadoes; Quesadilla.
Friday: Donuts; popcorn shrimp or tuna croissant or peanut butter and jelly sandwich.
Public Mead Schools
Monday: Breakfast bar; mini corn dogs, baked beans, triangle potato, applesauce, chocolate chip cookie.
Tuesday: Cinnamon bun; chicken sandwich, corn, tropical fruits, sugar cookie.
Wednesday: Mini-bagels; nacho supreme, green beans, grapes, peanut butter sandwich.
Thursday: Nutrition bar; French dip, tater tots, tropical fruits, Rice Krispie candy.
North Bend Central Schools
Monday: Pretzel with cheese sauce; charcuterie with sandwich and fries.
Tuesday: Pop Tarts; macho nachos.
Wednesday: Power bites; bunza and green beans.
Thursday: chef's choice; chef's choice.
Scribner-Snyder Public Schools
Monday: Combo bar; beef patty, mashed potatoes, green beans, pears.
Tuesday: Frudel with cherries; burgers, fries, baked beans, mixed fruit.
Wednesday: long johns; tater tot bar, cooked broccoli, cookies, pineapple.
Friday: cereals/toasts; fish sandwich, fries, corn, peaches.