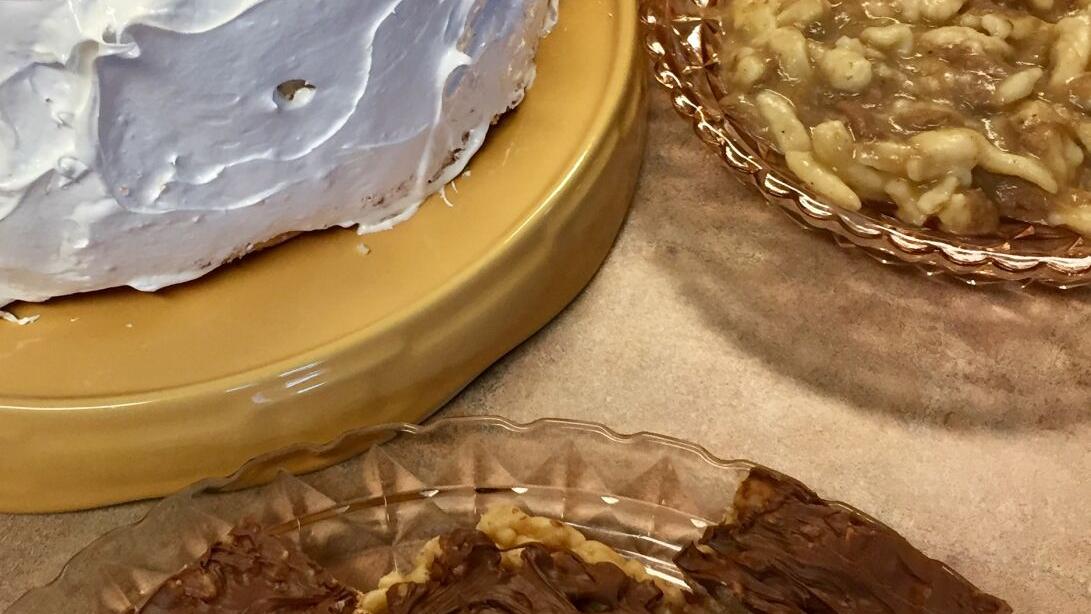 'Old fashioned cooker' does what her family loves | Food
[ad_1]
BARRY, Ill. – Kay Gooud believes that one of the most important ingredients in cooking is simply the desire to do it.
"A lot of it is about wanting to cook what you know your kids all love," wife Barry said.
She doesn't mind investing the time needed for a favorite like her Angel Cake Supreme.
"You sift and sift and sift an angel food cake, or I do. I sift it four times, "she said.
Sometimes she gets help in the kitchen from a grandson who lives nearby. "He loves the cake, but most of all he loves the seven minute frosting," she said.
The whole family – her partner Tom and the five children and five grandchildren they have between them – also love the Scotcheroos.
"It's kind of like the Rice Krispies treats, except they have peanut butter in them," Gooud said, and topped with melted chocolate and butterscotch chips, "they're really rich."
Her mom's no-bake miracle cookies remain a favorite with Gooud's own oatmeal pie, a recipe she's been making for years, and her beef and noodles with homemade noodles.
"I'm more of an old-fashioned cook," she says. "I make noodles all the time for the kids."
A self-proclaimed tomboy growing up outside Pittsfield, Gooud didn't cook much growing up, but his sister did. With the help of his sister and some trial and error, Gooud was soon comfortable in the kitchen.
"I cook with a recipe," she said. "I'm not a pinch of this and a pinch of that."
While admitting a satisfied sweet tooth with desserts, which she shares with friends and family, Gooud also enjoys making salads. Family meals always include mashed potatoes and scalloped corn, along with Gooud dressing and cranberry relish for the holidays.
Keeping the freezer stocked with everything from your favorite appetizer, stuffed mushrooms to pie crust, helps meals prepare even faster for Gooud.
"I make crusts five at a time and then put them in the freezer," she said. "This way you can make two pies with a double crust and one pie with a single crust."
Cooking is just one of Gooud's interests, who takes care of other activities such as quilting, crochet, sewing and making wreaths.
"My doctor said to me 'Okay, keep busy'," she said. "I'm pretty busy. This is good advice. There are so many things I do and want to do.
Cook the roast in enough water to almost cover the meat.
For the noodles, combine the flour and salt. Add the beaten eggs, milk and butter, knead until smooth. Let sit in a covered bowl for 10 minutes. On a floured surface, roll out the dough to the desired thickness. To cut. Let dry about an hour before cooking.
1 ¼ cup powdered sugar, sifted
1 ½ teaspoons cream of tartar
¼ teaspoon of almond extract
Sift the flour with the powdered sugar three times. Beat egg whites with cream of tartar, salt, vanilla and almond extract until firm enough to hold in peaks soft, but still moist and shiny. Stir in sugar, 2 tbsp at a time; continue beating until the meringue has stiff peaks.
Sift about ¼ of the flour mixture over the egg whites; fold slightly with an up and down motion, turning the bowl. Incorporate the rest of the flour in quarters.
Bake in an ungreased 10-inch tube pan at 350 degrees for about 30 minutes or until cooked through. Turn the mold over and cool the cake well.
2 teaspoons of light corn syrup or ¾ teaspoon of cream of tartar
Place all the ingredients except the vanilla in the double boiler, without overheating. Beat 1 minute with an electric or rotary mixer to mix. Place over boiling water and cook, beating constantly, until icing forms stiff peaks, about 7 minutes; do not overcook. Remove from the boiling water. Pour into the mixing bowl, if desired. Add the vanilla and beat until it reaches a spreading consistency, about 2 minutes. Frost the tops and sides of two eight- or nine-inch layers.
Bring the butter, sugar and milk to a boil. Add the oatmeal, coconut and cocoa. Place on waxed paper. Let cool, then put in Tupperware to keep.
1 teaspoon ground cinnamon
⅛ to ¼ cup melted butter
Beat eggs until frothy. Combine sugar, flour, cinnamon and salt in a small bowl. Add the eggs and mix well. Add the corn syrup, melted butter and vanilla. Add the oatmeal. Pour into the uncooked pie shell. Bake at 350 degrees for 45 minutes or until golden brown, which may take 5-10 minutes longer.
5 to 6 cups of Rice Krispies
Put the sugar and syrup in a saucepan. Bring to a boil; remove from fire. Stir in the peanut butter, then the Rice Krispies. Press mixture into greased 9 x 13-inch pan. Melt the crisps. Spread over the cereal mixture. Cut into bars when cool.
[ad_2]