Mountain-sized cookie bakery opens downtown – SiouxFalls.Business
December 11, 2021
The newest downtown addition features "mountain-sized" cookies that are mixed and baked daily on site.
And as befitting a business called "Mountain," Mary's Mountain Cookies opened in Friday's storm that dumped nearly a foot of snow on Sioux Falls.
"Our main cookie size is a 5 ounce cookie," said Becky McElroy, who owns the franchise with her husband, Dave. "They were created this size because originally Mary – she's here right now to help us train and get us started – she was working on a dude ranch as a chef, and they wanted to cookies and they wanted them to go with the pack saddles when they were hiking the trails so they had to be big so they didn't fall apart. And that's the reason we have big cookies from the size of a 5-ounce monster. "
Founder Mary Johns started the cookie business in Colorado almost 30 years ago, and Sioux Falls is just a dozen bakers – No.13 – in the chain.
The bakery, which is on The Cascade promenade on North Phillips Avenue next to Severance Brewing Co., will offer eight standard flavors throughout the year. Added to this are seasonal flavors that will change every two months.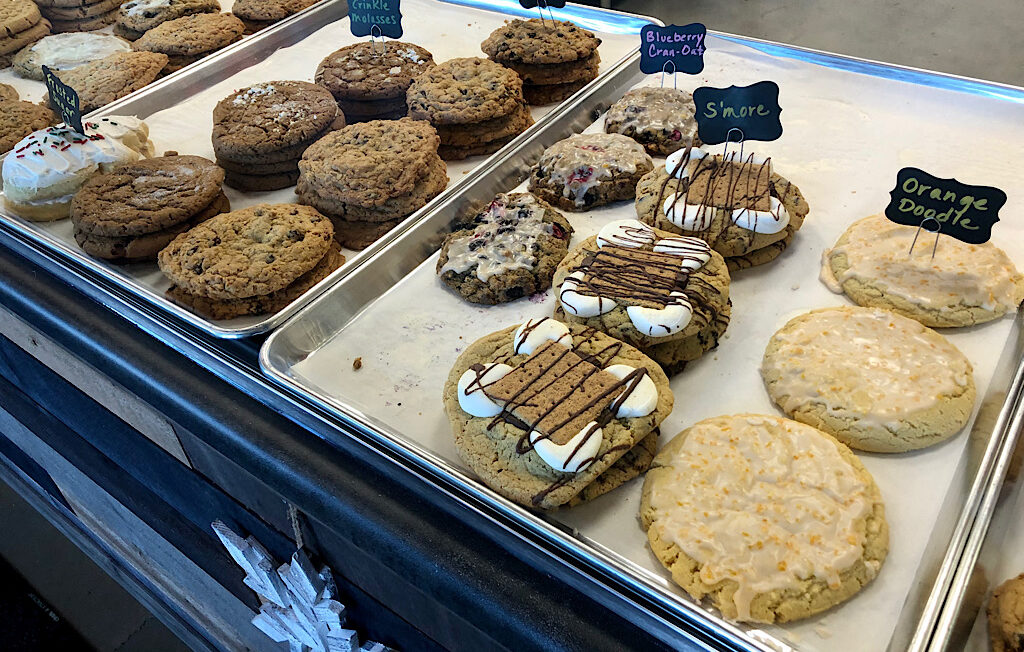 Every day, customers will find around 18 cookie options, and when they buy half a dozen, they can add two more for free.
Mary's Mountain Cookies also makes Avalanches, which are two 2-ounce cookies with frosting in the middle, and Tornadoes, which are ice cream mixed with cookie dough and edible flavors.
Blue Bunny ice cream is available by the spoonful, with room in the case for up to eight flavors.
In the coming weeks, the bakery will have ice cream cookie sandwiches stored in the freezer and add gluten-free cookies and baked dog treats.
The bakery makes great party cookies, and custom orders can also be made with sufficient notice, McElroy said.
Ultimately, the boutique will offer a catering service for events such as weddings.
While the chain's bakeries use the original recipes and offer all eight standard flavors, each location can choose the seasonal options to bake and can create distinctive flavors, McElroy said.
Monster cookies aren't popular in some Colorado stores, for example, but McElroy knows they will be.
"It must be more of a Midwestern cookie, and we all grew up with them in church basements, right?" She laughs. "So that's probably the one we'll always wear. It's also my favorite.
The bakery doesn't have seats, but McElroy said they would likely add a few benches along the promenade once the weather warms up.
They decorated the shop with a mountain theme – there are rolling pins hanging on the wall in the shape of mountains and thermoses on shelves framed by a sleigh. The custom designed lights by Steve Bormes include one that incorporates cross-country skis and poles.
"We are very excited about this location," said McElroy. "It was our # 1 choice when looking around Sioux Falls."
The store is closed on Mondays and open from 12 p.m. to 4 p.m. on Sunday, from 10 a.m. to 8 p.m. Tuesday to Thursday and from 10 a.m. to 9 p.m. on Friday and Saturday.
These times could change with the seasons.