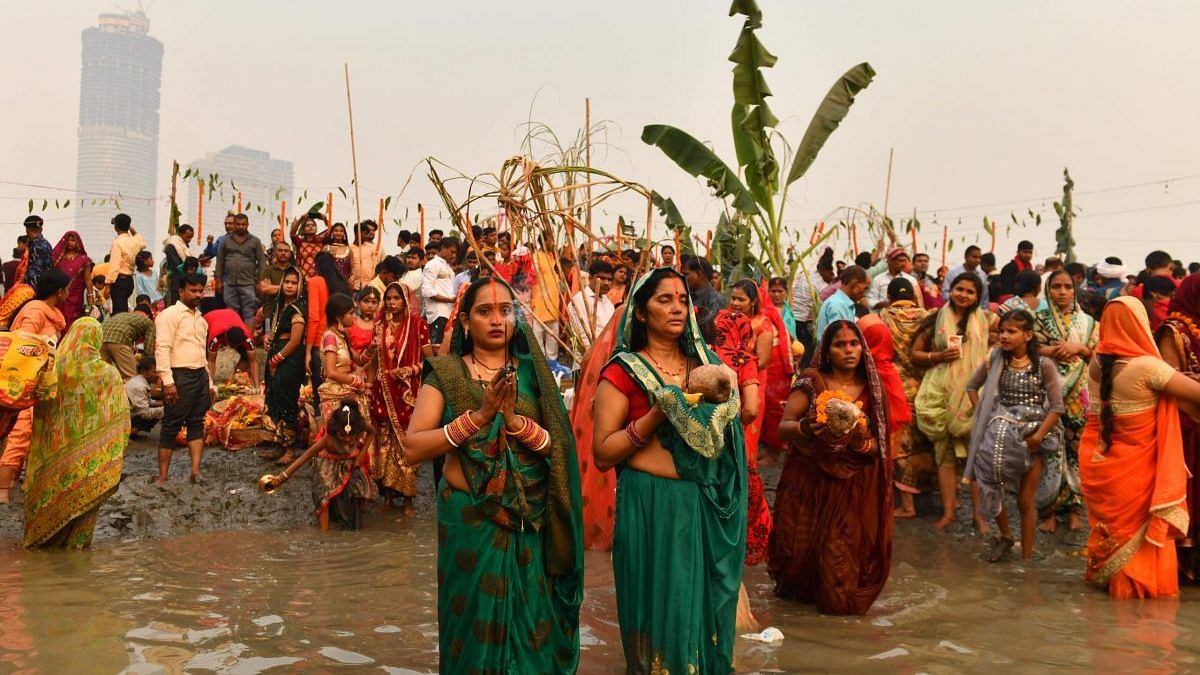 How Bihar's Subordinate Chhath Festival Entered Elite Spaces
Jhe Chhath festival has been experiencing something unique for the past few years. Apart from the march forward of India's subaltern culture, this 'Bihari' festival has entered the shining rooftops of skyscrapers in metropolitan cities of India as well as abroad.
But this change also marks a process in the opposite direction. Usually it is elite class culture that becomes mass culture. The flow is from top to bottom. Elites generally do not copy plebeians or their cultural practices. But Chhath is an exception and there are three factors behind it.
Chhath Festival Spread
Chhath has traditionally been a mass festival restricted to the geographical boundaries of Bihar, including the Terai region of Nepal. Coming from an industrial city in Jharkhand, and later spending years in Delhi, Kolkata and Mumbai, I witnessed the phenomenal growth and spread of the Chhath festival. In the 1980s, only a few migrants from Bihar celebrated Chhath. As the migrant population grew and the Bihari culture became the dominant culture in the industrial towns, others (non-Biharis) also began to participate. I see the spread of Chhath as something that Bihari migrants have taken to different parts of the country as well as overseas including countries such as United States. The Indian political class has also felt the shift in voter demographics brought about by the Bihari migrant population. High-level politicians now want it on this occasion.
Chhath Puja brings out a very particular aspect of Indian culture. I talked about it today #MannKiBaat. https://t.co/msdF1b3rUw

— Narendra Modi (@narendramodi) October 29, 2017
We see politicians and governments making arrangements for the celebration of Chhath in different parts of the country. The scale of the festival is so large that e-commerce sites are selling Chhath Poojan Combo Sets.
---
Read also : American Indians celebrate Chhath Puja in several states of the United States
---
Chhath and subalternity
Chhath is one of those so-called Hindu festivals in which there is no idol worship, no priestly class, no Sanskrit mantras and no dakshina. Devotees invoke and seek the blessings of the sun and 'Chhati Maiya' (Mother Chhathi) in their local dialect. Previously, there were no temples related to "Chhati Mai". When the audio cassette industry realized that there was an untapped market in Chhath, notable singers like Sharda Sinha and Anuradha Paudwal has sung many songs in languages ​​like Bhojpuri, Magahi and Vajjika which are played again during the festival. It's hard to find popular Chhath songs in Hindi, let alone Sanskrit.
Linguist, specialist in Buddhist history and professor at Veer Kunwar Singh University of Ara, Rajendra Prasad Singh argues that Chhath has its roots in the Buddhist past because its geographical spread is in the region where Buddhism once had great influence and royal patronage. He also notes that people offer and eat "Thekua" (small sweet fried cookies) during this festival and the most popular designs used on top of Thekua are Peepal Tree (Ficus religiosa) leaves and Dhamma Chakra.
छठ मूल रूप से बिहार, पूर्वी उत्तर प्रदेश और नेपाल के क्षेत्र का पर्व ।।। ।।।.. More information

आश्चर्यजनक रूप से छठ के प्रसाद के रूप जो ठेकुए ठेकुए या बनाए जाते हैं उस पीपल पीपल पाँत पाँत धम्म की छर पीपल है ।।.. pic.twitter.com/rZwN2lgUef

— Dr. Rajendra Prasad Singh (@563Rajendra) October 28, 2022
It further holds that devotees make altars in the form of Manauti or votive Stupa during this festival. Professor Singh is correct.
In cities, class and caste barriers remain invisible during this festival. You can find yourself standing near people of any class or caste on the banks of rivers or ponds. However, in some villages, caste barriers rear their ugly head during this festival. Write for ThePrint, The Mooknayakeditor Meena Kotwal recount that when she traveled in the interior of Bihar for election coverage, she saw that during Chhath, the former untouchables have their separate spaces by the rivers and ponds. She also finds elements of patriarchy in the festival. We do not know if this is an old practice or if it is an addition in a later period.
---
Read also : German woman performs Chhath Puja with her husband in Gorakhpur
---
Gentrification of Chhath
Chhath is now celebrated in the metropolitan city apartments and colonies too. To do this, residents' associations and sometimes elected officials set up makeshift arrangements for bodies of water. The orient oneself to celebrate Chhath on the roofs the use of inflatable pools has also grown in popularity. Rising levels of pollution in the rivers and huge crowds are cited as reasons for this. It was reported this "Many apartment builders have now started constructing concrete rooftop ponds as an attractive feature for customers and for residents to celebrate Chhath collectively."
But this changes the fundamental character of Chhath, which is still considered a community holiday. With such changes there will be no place to stand together in a river or pond and no mutual exchange of prsade (offerings). As Indian urban settlements and housing societies are not always inclusive and especially Dalits do not live in these spaces, Chhath as a settlement or apartment business will certainly deprive it of its fundamental character of spatial inclusiveness. Urban segregation is a social fact and certainly has an impact on settlement and apartment festivals and associations.
The mass media also have an impact on Chhath. The gigantic structure of Hindi media tries to insert religious elements Katha or a caption in its cover. Such captions reach millions of readers while some of the major media platforms (1, 2, 3, 4 , 5) publish them. The media made up a daughter of Brahma by the name of Shashti and presented a story of how a king and queen observed quickly summoning Devi Shashti and how a son was born to them. The attempt is to make it a religious holiday that grants a family's wish for a boy. In Bihar and Uttar Pradesh, temples of Chhath Devi appeared. In some cases, new connections are added. A sanskrit mantra has been created. Obviously, the masses will not be able to recite the Sanskrit shlokas, which, as a corollary, will open the way for the priests! If this trend continues, alongside the increasing gentrification of the festival, there is a possibility that Chhath will become another Hindu ritual festival.
One may wish that mass culture would try to salvage some of Chhath's elements, but it will not be an easy task, especially in an age of proliferating mass media mythos created on an industrial scale. Hindutva is the winning ideology of our time, and it will certainly try to make the Chhath ritualistic and gentrified.
Dilip Mandal is the former editor of India Today Hindi magazine and author of books on media and sociology. He tweets @Profdilipmandal. Views are personal.
(Edited by Prashant)