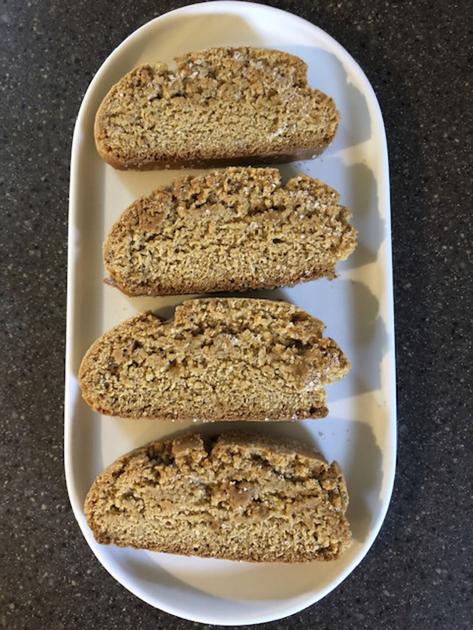 From yoga to gingerbread biscotti | Local News
[ad_1]
I am on yoga day 261.
This is the only constant in the middle of this year full of often changing tides. When I started the first 30 Day Yoga Challenge with Adrienne in early January, I thought it would be a good way to bring flexibility to my body and relieve stress from my brain. Over the days, I did another challenge and another.
And here I am, two hundred and sixty-one days later, devoting a few more minutes each day to inhaling, exhaling, stretching and strengthening my aging muscles. Unbeknownst to me, my daughter, who lives in Baltimore, was following the same plan.
Every now and then we check in and that always gives me that extra push to keep going. The health benefits are multiple: less stress, less weight, more strength, more flexibility, faster recovery from injury, better posture, lower heart rate. There is something really invigorating about taking those few minutes for myself without taking my time and letting myself be present in the moment.
Many times on the yoga mat, I let go of the worries, doubts or needs of others. I know they'll still be there when I get off the mat, but for that half hour I'm laying them down.
Over the seasons, my yoga practice has changed. In winter, I often made sure I had a sheepskin on hand, and through the closed windows I saw snow and bare branches. In the spring and summer, I would pull out my mat often and hear train whistles, birds, and bugs as I found my poses. And now that summer turns to fall, I go inside, sometimes with the windows open and the sound of rain falling or the rustling of leaves, or again with the windows closed.
These moments on the mat, this daily ritual not only focus me but encourage creativity when I'm not on the mat.
So this week, once I got off the yoga mat, I did a deep clean in my art room and found some old recipes that I had ripped from magazines. One of them caught my eye and I walked into the kitchen to see if I could get the ingredients I needed to make it.
The answer was "Yes". This is how Gingerbread Biscotti was born.
As usual, I modified the recipe to my liking, in this case adding candied ginger to add even more ginger goodness and a little more butter as well. It makes a nice addition to my fall recipes. Here is the recipe if you want to make it. And I also encourage you to do some yoga.
Gingerbread Biscotti
3 ch. plain flour
2 tons of baking powder
½ ton of salt
1 teaspoon of ground ginger
1 t. cinnamon
1/4 t. cloves
vs. candied ginger, cut into small pieces
6 T. butter, room temperature
vs. sugar
2 large eggs, room temperature
1 t. vanilla
3 T. molasses
Raw sugar for decoration
Heat the oven to 350º. Line a baking sheet with parchment paper. Combine flour, baking powder, salt, spices and crystallized ginger in a small bowl. Beat butter and sugar in a large bowl. Beat eggs until well combined. Stir in the vanilla and molasses, then slowly add the flour mixture. Turn the dough onto a lightly floured surface. Knead, then divide into two pieces. Shape each piece into an 8 "by 2" log. Place on a baking sheet. Sprinkle with raw sugar.
Bake for 25 minutes, then remove from the oven and let cool for about ten minutes. Carefully cut the logs into slices about ½ inch thick. Place the slices cut side down on the baking sheet and return to the oven for another 10 minutes. Turn the slices over and cook for another 5 minutes. Remove from the oven and let cool completely.
The good life Rachel shenk has been a baker for 30 years. Born and raised in Belgium, she has lived in Goshen since 1973. She has written about gastronomy, travel and the sweetness of life for about 10 years. You can join her on her Facebook page, The good life, or in his cheese factory in Goshen, The Wedge.
[ad_2]