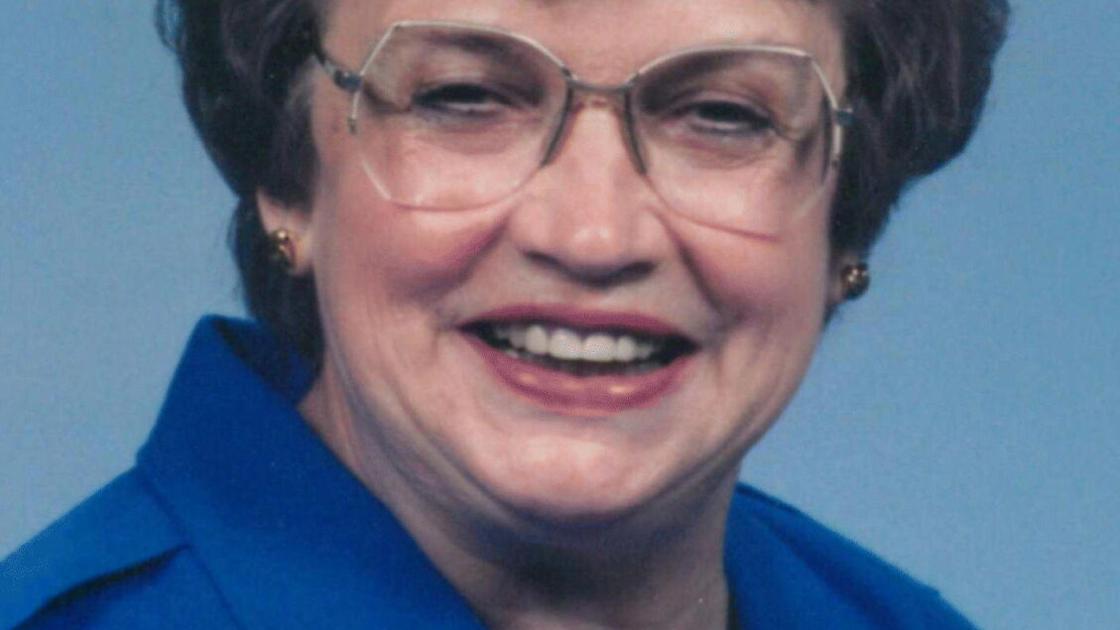 Florence Lucille (Neitzel) Zastrow | Obituary
[ad_1]
July 26, 1930 – July 30, 2021
Oconomowoc, WI РOn Friday, July 30, 2021, 91-year-old Florence Lucille Zastrow (n̩e Neitzel) entered peacefully into eternal life.
Florence was born July 26, 1930 to Leonard and Hertha (née Mueller) Neitzel in Sugar Island, WI. She graduated from Oconomowoc High School in 1948. Florence married the love of her life, Dennis "Denny" on May 5, 1951. They faithfully kept their marriage vows for 68 years. They adored each other and were wonderful role models for many.
Florence lived her life firmly centered on her faith, her family and her selfless dedication to helping others. The call to serve was shaped by a lifelong journey with Christ as a dedicated member of Saint Paul's Lutheran Church in Oconomowoc, where Florence loved to attend Sunday services, Bible classes and do volunteering with Denny throughout their marriage. She has also served the community through her work, as a cook in the retirement communities of Shorehaven and Knollward and at Oconomowoc High School. She enjoyed working at the Country Belle clothing store in downtown Oconomowoc for 5 years. Florence was co-owner of the Village Eatery in Hartland for 9 years, where she baked and baked many of her "famous" pies.
Although her happiness came from helping others, her first passion in life has always been her family. Loving and loving mother, grandmother and great-grandmother, Florence and Denny never missed an opportunity to spend time with their grandchildren, whether at sporting events, recitals, birthdays. and graduation ceremonies, or at their homes for sleepovers. Saturday morning breakfast or Chinese checkers matches. She loved the holidays, especially Christmas, when everyone was gathered under her roof on Valley Road. She has always been kind, loving and supportive and never hesitated to share the accomplishments of her grandchildren with others. She made each of them feel loved and like they were her whole world. Florence also enjoyed spending time with friends, especially bowling nights and card games. She will be sadly missed by all who are fortunate enough to have known her.
Florence was welcomed to heaven by her dear husband, parents, sister Elfrieda and brother Edward. She is survived by her children, Rick (Diane), Susan (Dennis) Thelen, Steven (Karen), Julie (Dick) Barr and Mary (Louis) Hickenbottom. Much loved by his grandchildren: Kevin (Ana), Abby (Benjamin) Jurken, Jason (Sarah) Thelen, Dan Thelen, Karissa (Brian) Wiley, Rebecca (Christopher) Banach, Joseph (Andrea) Thelen, Ashley (Drew) , Zachary, Madalyn (Mon) Phan, Nathan (Melissa) Birr and Matthew Birr; her great-grandchildren: Genevieve Jurken, Abby (Nathan) Kuehl, Emma and Zachary Thelen, Audrey and Harper Banach, Joey and Raylan Thelen. She is also survived by her nieces, nephews and many friends. She loved them all!
We are going to miss so much about it. She was a fabulous pastry chef and made amazing homemade pies, cakes and cookies, torte de schaum, cherry bars, blueberry pancakes, applesauce and hot chocolate. She was our greatest cheerleader and let us know that she always prayed for us in her daily devotions.
We will forever carry his gentle spirit in our hearts.
A visitation will be held Thursday, August 5 at St. Paul's Lutheran Church, 210 Pleasant St., Oconomowoc, WI, from 9 a.m. to 11 a.m., with a funeral to follow. A private funeral for the family will be held at the Glenview Memorial Gardens in Ixonia, WI.
Memorials to St. Paul's Lutheran Church or the American Diabetes Association would be appreciated by the family.
To plant a tree

in memory of Florence Zastrow

as a living tribute, please visit Tribute Store.
[ad_2]