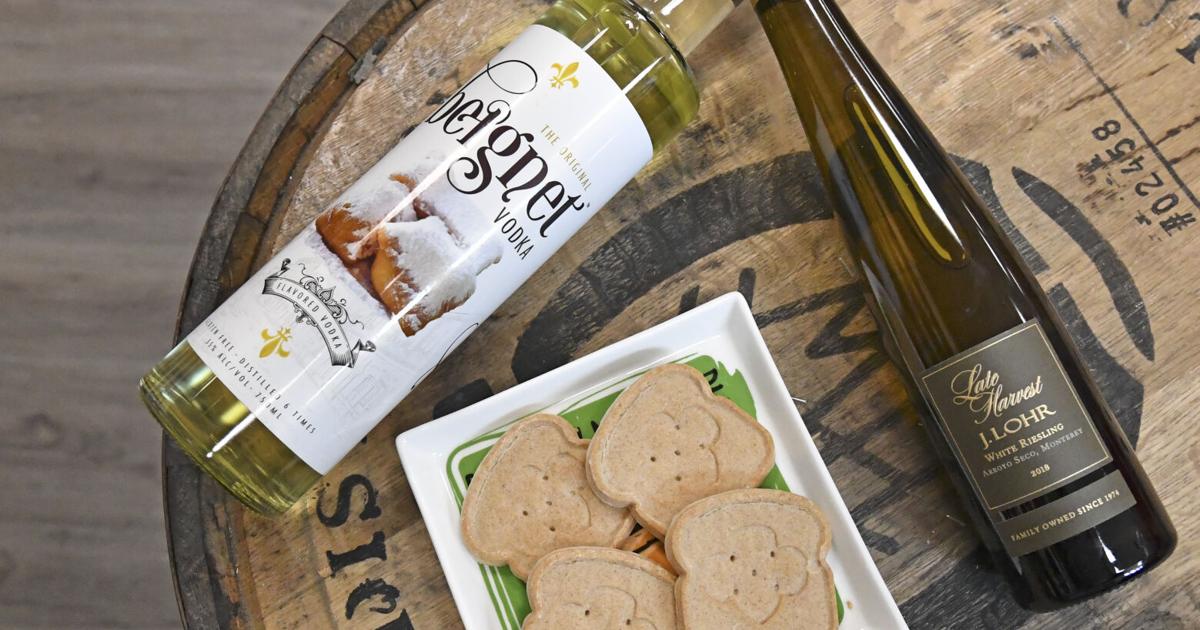 Do you have Girl Scout cookies? Here are wines, drinks to accompany them | Food/Restaurants
Melissa Palfrey, general manager of Martin Wine Cellar on Moss Side Lane in Baton Rouge, took on the challenge of pairing wine and other beverages with this year's Girl Scout cookie collection.
Palfrey, a self-taught wine enthusiast who enjoys learning about wine, has worked at Martin's since 2019. She says traveling and tasting wines in different parts of the world has been her ultimate source of education in the wine industry.
For the record, Palfrey, a former Girl Scout herself, said Caramel Delites was her favorite. For couples, Palfrey worked with Nick Brown, Bryan Cotton and Marybeth Papaneri, all Martin's staff.
For those unsure about pairing wine and chocolates in general, Palfrey recommends trying full-bodied, fruity Merlots, Zinfandels and Cabernet Sauvignons.
"See if any of these wines change their minds about wine and chocolate going together," Palfrey said. "Overall, have fun. Experience. Don't take it too seriously.
For Girl Scout wine and cookies, Palfrey recommends getting together with friends and having a theme to try mixing and pairing different wines with cookies.
"Try it for yourself to see which cookies pair best with which wines," she said.
Want to know more about wine?
Palfrey recommends the books "Wine Folly" by Madeline Puckette and "Wine Bible" by Karen MacNeil as sources for those who want to dive deeper into wine.
Palfrey's chords
Caramel delights are crispy cookies topped with caramel, toasted coconut and fudge stripes. Recommended Pairings: Terrassous Rivesaltes Ambre 6-Year-Old Dessert Wine ($19.99) and Marsh House Premium Rum ($29.99)
Rivesaltes, a French dessert wine, has elements of "dried fig, raisins, caramel notes with a rich syrupy texture," Palfrey said.
She added that Marsh House rum, created by an Avery Island family and bottled in New Orleans, comes from a blend of rums distilled in Panama, Nicaragua and the Dominican Republic and made from molasses. and sugar cane. She recommends trying a Pina Colada made with Marsh House Rum as a great match with the Caramel Delite.
Adventurers are brownie-inspired cookies with caramel cream and a hint of sea salt. Recommended pairings: Natale Verga Dolcelina Sweet Red ($7.99) and Clarksburg Delta Rouge Red Blend ($12.99).
Dolcelina is a sweet red wine. It's a soft, fun red with hints of strawberries and raspberries," Palfrey said. "It's always a good pairing with caramel and chocolate."
The Clarksburg Delta Rouge Red Blend, according to Palfrey, is a blend of Cabernet, Merlot and Syrah.
"It's a very fruity, medium-bodied blend with red and blue fruits that pair well with the chocolate."
lemonades are savory slices of shortbread with a lemon glaze on the underside of the cookie. Recommended pairings: J Lohr Sauvignon Blanc Flume Crossing ($13.99) and Nai Albarino Rias Baixas ($16.98).
Palfrey says these two crisp, lemony wines work well with lemonades.
Sandblasted Clovers are traditional old fashioned shortbread cookies. Recommended pairings: J Lohr Arroya Vista Chardonnay ($18.99) and Vietti Moscato D'asti Cascinetta ($14.99).
Palfrey describes Italian Moscato D'asti as "sweet, slightly sparkling". She said it's "a sweet, lemony, golden apple and pineapple finish" and a fun complement to the buttery shortbread. She recommends D'Asti with cookies as a dessert wine and Chardonnay with cookies when served as an appetizer.
peanut butter sandwich cookies are crunchy oatmeal cookies with a creamy peanut butter filling. Recommended pairings: Seven Three Distilling Company Bywater Bourbon ($43.99) and E Guigal Côtes du Rhône Blanc ($13.99).
Brown, a bourbon lover and the front desk manager at Martin's, says the Bywater Bourbon is very smooth with a bit of sweetness.
"It's a great local bourbon that works well with peanut butter cookies," Brown said.
Palfrey says that the E Guigal Cotes Du Rhone Blanc is a blend of Viognier, Roussanne and Marsanne.
"It has notes of almond, honey peach and white flowers that balance out the rich, nutty peanut butter," she said, adding that it has enough acidity to cleanse the palate between each bite.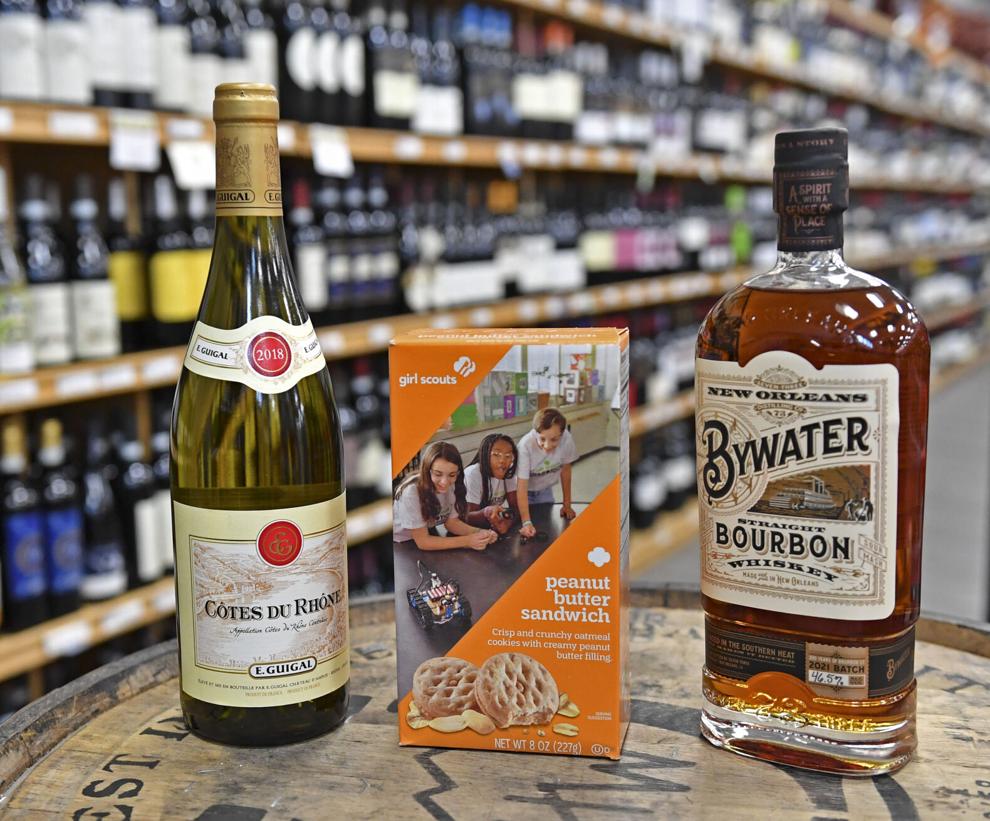 Toast yay is a French toast-inspired cookie dipped in icing. Recommended pairings: Beignet Vodka ($20.99) and J Lohr Late Harvest White Riesling ($22.99).
For the Toast-yay, Palfrey recommends using Beignet Vodka as the base for a White Russian. She says to use 2 ounces of Vodka Beignet, 1 ounce of Kahlua, and 1 ounce of cream. Mix the vodka and the Kahlua, add ice, then top up with the cream.
Palfrey says the J. Lohr Riesling dessert is a richer, sweeter style of Reisling that will suit the sweet cinnamon and sugar flavors of the biscuit.
fine mints are crispy chocolate wafers dipped in a mint fudge coating. Recommended pairings: Michael's Celtic Irish Cream ($27.98), Rally Cap Wendy Peppercorn Milk Stout Beer ($2.95) and Textbook Merlot Napa Valley ($23.99).
"Michael's Celtic Irish Cream is delicious with coffee and Thin Mint cookies," Palfrey said. She also recommends Rally Cap Milk Stout Beer and describes it as a dark, rich beer with flavors of coffee and vanilla.
"As an alternative, Napa's Textbook Merlot works well with Thin Mints as it has dark, juicy, berry and chocolate undertones."
Peanut butter patties are crispy cookies topped with the finest peanuts and coated in a fudge coating. Recommended pairings: Marietta Cellars Old Vine Red Zinfandel ($14.99) and Quinta Do Noval Tawny Port ($15.99).
"The peanut butter and chocolate combination works well with the Zinfandel. It's a fruity style of wine that balances well with peanut butter and chocolate," Palfrey said.
Tawny Port is a dessert wine that pairs well because Tawny tends to have hints of raisin, hazelnut, caramel and dried fruit.