Crawfish cakes with poached eggs, pumpkin cookies and a BLT sandwich: the best things we ate this week | Food/Restaurants
Sandwich BLT & chilli from French Truck coffee
I've been a fan of French Truck's New Orleans iced coffee for years. Despite all that caffeine, I kind of slept off the lunch menu at this Government Street cafe. Maybe it's their relatively new bright menu or my colleague Leah Vann recently posted pictures of her French Truck work lunch, but I finally gave it a try.
The BLT and chilli sandwich came on toast with the perfect crunch. The chili cheese gave it a bite I wouldn't have expected from a traditional BLT. The sandwich came with several side options, but I was glad I chose the salad. This beautiful, fresh bed of lettuce and vegetables was not your average sad side salad.
At only $11, this meal was the perfect excuse to get away from my home office. The dozen indoor and outdoor table options and free Wi-Fi locked French Truck into my workplace rotation for lunch.
French Truck Coffee, 2978 Government St., Baton Rouge, LA 70806. (225) 406-7776.
French Truck is open from 8 a.m. to 6 p.m. on Saturday and Sunday; 7 a.m. to 6 p.m. Monday to Friday. (Emma Discher, editor)
Crawfish cakes and poached eggs at Elsie's
I admit that I frequently visit Elsie's Plate and Pie. But surprisingly last weekend was my first visit for brunch. As usual, it did not disappoint.
I ordered the Atchafalaya Morning, a version of Eggs Benedict with crawfish cakes topped with poached eggs and satsuma hollandaise sauce. The added sweetness of the satsuma in the hollandaise sauce gave it a unique flavor that pairs well with the savory crawfish cake. The side of the grits was perfectly seasoned (which I don't often say). Complimented by a mimosa, which was served in a 16 ounce beer glass, the meal was a perfect start to my day.
Elsie's Plate and Pie, 3145 Government St., Baton Rouge, LA 70806. (225) 636-5157
Elsie's is open 11am-9pm Monday, 11am-10pm Tuesday-Thursday, 11am-11pm Friday, 10am-11pm Saturday, and 10am-9pm Sunday. Brunch is served Saturday and Sunday from 10 a.m. to 3 p.m. (Julia Guilbeau, editor)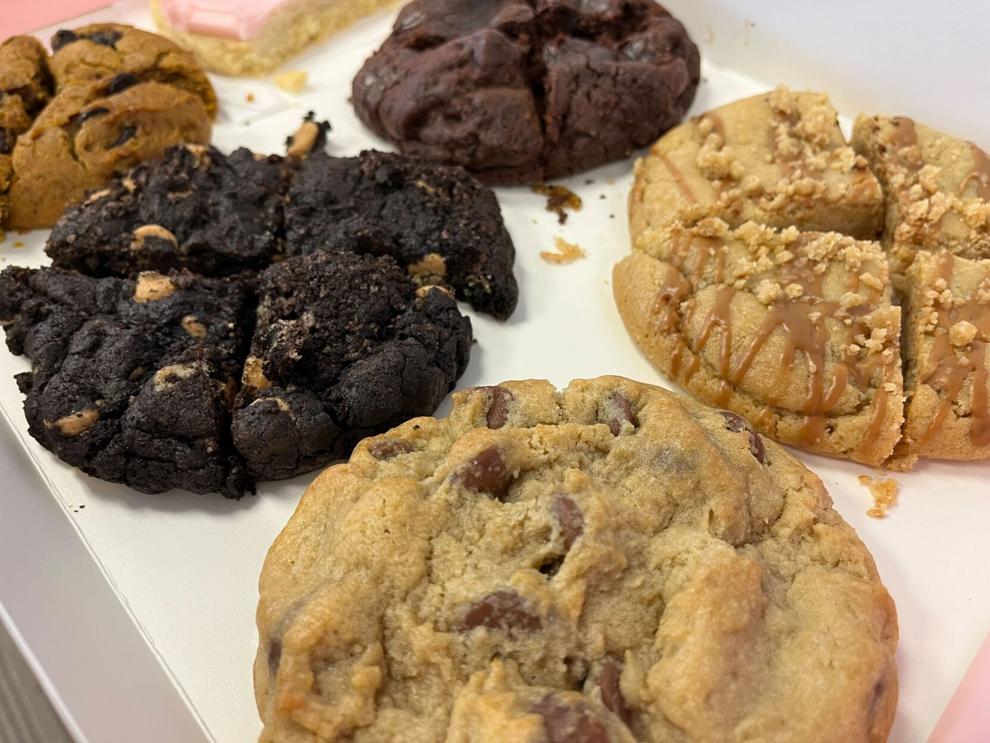 Crumbl Cookies Assorted Cookies
If you haven't already seen it on Instagram, September 1 has become the undisputed start of the fall drink and bake season. How many Instagram posts or Tweets have you seen about someone ordering their first Crispy Apple Macchiato or Pumpkin Mousse Cold Brew?
But as people seemingly waited in a queue so long it blocked traffic on Siegen Lane, I ran in and out of Crumbl to grab my box of cookies, including the chocolate chip delicacy at the special edition pumpkin. It was served hot, fluffy and delicious.
There are so many ways to get your fall kick, when you're ready of course, but don't rule out Crumbl.
Crumbl Cookies, 6555 Siegen Lane, Unit 10, Siegen Lane, Baton Rouge, LA 70808. (225) 228-0120.
Crumbl is closed on Sundays. It is open 8 a.m. to 10 p.m. Monday through Thursday and 8 a.m. to midnight Friday and Saturday. (Emma Discher, editor)