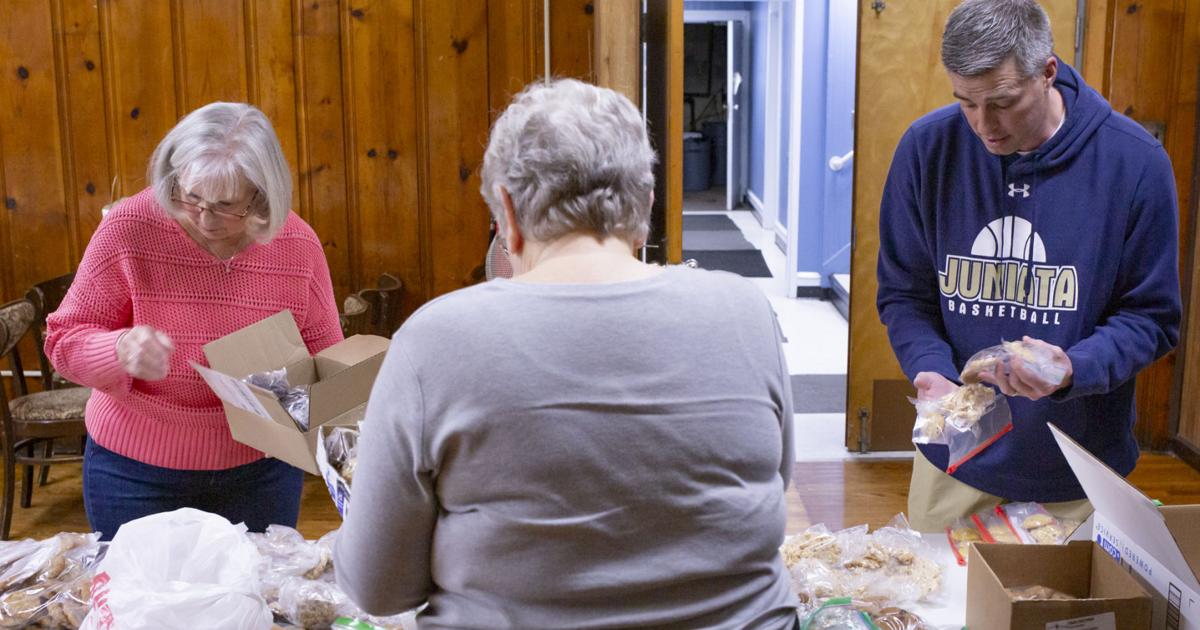 Cookies for Caregivers turns two | Local
At the start of the COVID-19 pandemic, two dads from Huntingdon decided to organize a baking competition. Two years later, a thriving organization has grown out of that little competition, and it shows no signs of stopping.
Cookies for Caregivers celebrated its second anniversary this week. To celebrate, they collected over 300 dozen cookies from their volunteer bakers to reach a grand total of 7,409 dozen cookies for their two-year total.
"It's a lot of dough, a lot of calories," said co-founder Jeremy Uhrich. "It's really part of my life, and it's something I'm very, very proud to say I'm involved in."
Uhrich and co-founder Scott McKenzie launched the organization in 2020 when they both found themselves working from home. They had turned to baking to fill their time, like many people, and when Uhrich spotted a photo of McKenzie's cookies on Facebook, he suggested baking. The couple quickly decided to turn their friendly competition into something more meaningful and opted to donate the cookies they were baking to essential workers in the area. After recruiting four or five more bakers, they began making deliveries a weekly event that has continued ever since.
"I don't think anyone thought we would go again two years later," McKenzie said.
Since then, the group has grown to include companies and organizations outside of healthcare. The organization has also spawned more than 50 similar groups in cities and communities across the country, but Uhrich said few have continued to operate with as much energy and passion as the original.
"It's just a credit to the amazing people we have in this community, whether it's people who cook, help sort the cookies and pack the boxes," Uhrich said.
He estimates that nearly 200 members of the Huntingdon community stepped in to help as bakers or packers at some point during those two years. Each week, Uhrich rounds up a number of bakers to bring in cookies which are packed on Wednesday evenings before McKenzie makes deliveries every Thursday.
"We're just a reflection of our community, our community seems to have enduring power in how it takes care of itself, how it manages itself," McKenzie said.
Amy McMahon started cooking in one of the organization's first weeks. She continued to bake throughout the two years and lost track of how many cookies she contributed.
"I really like that. I think it's just nice to make people feel appreciated when they don't always know they're appreciated," McMahon said. something that is easy and enjoyable for me at least that I can do to help someone feel appreciated."
Fellow baker Kevin Snape said he enjoys using a personal hobby to give back to the community.
"It's not the greatest thing in the world, but it's one of the nicest," Snape said. "We just try to take care of the people who take care of us."
It also provides an opportunity for former medical professionals like Cindy Wetzel to show their support for former colleagues.
"I'm retired from the medical field, so it's kind of a way for me to keep giving back," Wetzel said.
Thanks to immense interest in the group from the national media, they also received large donations from organizations such as King Arthur Flour, Bob's Red Mill and Planter's Peanuts.
King Arthur's Flour was distributed in public handouts, while funding for Bob's Red Mill and Planter's Peanuts was distributed to local nonprofits including Huntingdon County PRIDE, the Central Pennsylvania Food Bank, the Huntingdon County Humane Society and the Huntingdon County MilitaryShare food program.
Uhrich and McKenzie said their next big milestone will be 10,000 dozen, and they hope to reach that by the end of the year. Uhrich said the current goal is to continue to expand his "hugging radius" and show appreciation to anyone who needs it right now.
"That's our goal, what we're trying to accomplish is just to say thank you for what you go out and do every day," Uhrich said.
McMahon said she plans to continue volunteering as a baker and helping spread her appreciation.
"I think it's a really good idea to keep going and keep spreading kindness around us. The world needs kindness," McMahon said.