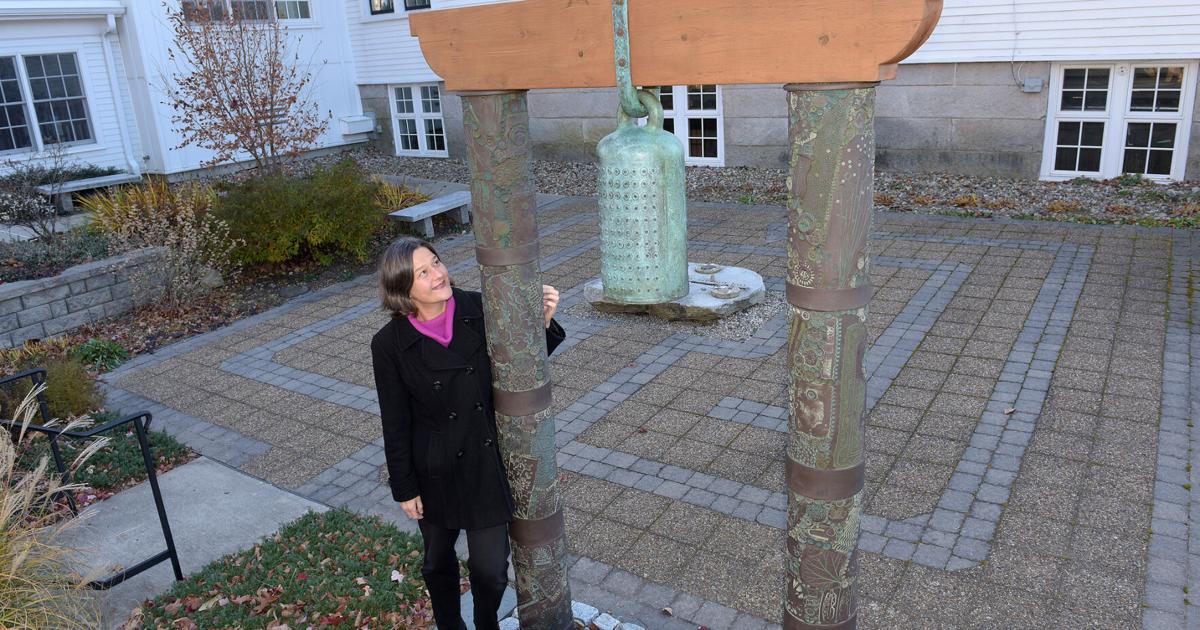 Birthday bell | Merrimack Valley
NORTH ANDOVER – Whenever Paul Revere's bell rings in the Northern Parish Church, it brings the past to life.
Installed in 1807, it was the 19th of the 950 bells that Revere founded in its foundry in Canton, and one of only 23 that remain today.
"He's seen a lot of history from its steeple overlooking the township," said Debb Putnam, who lives in Andover and has been a member of the church since 1987.
In addition to ringing the hours of the day, Revere's bell announces weddings and memorial services, and rings each year on the anniversary of the September 11, 2001 terrorist attacks, Putnam said.
"So it is used, not just as a timepiece, but it is used on important occasions," she said.
But now there's a new bell in town, as Revere's Bell was joined last month by a bell created by ward member Larry Elardo, who hung it between columns outside the garden. .
"It's kind of perfect," Putnam said. "You have this big bell in the steeple, compared to this little bell in the public space, but they have a similar purpose. They catch our attention and are markers of time, memory and community.
This sense of community has been challenged by the pandemic, which delayed the installation of the outdoor bell for a year, when it was originally scheduled to coincide with the 375th anniversary of the founding of the church on October 24. 1645.
The church has company in this regard with the city as a whole, which originally planned to host a gala for North Andover's 375th anniversary on October 1, but had to postpone this until May 22, 2022.
But the church celebrates its birthday every year on October 24 anyway, or the nearest Sunday, so delaying the dedication of the bell always made sense.
It was also an example of the spirit, which Putnam recently discussed with other parishioners, that made the church last even longer than Revere's bell.
"There is so much history, and it has fluctuated, and it still continues," she said. "It's pretty amazing. To do this, he must continually adapt to changing times, adapting to changing needs, to changing beliefs, but through it all, needing to keep connecting, to continue the community.
The dedication ceremony on October 24 also coincided with the anniversary of Rev. Lee Bluemel's installation 22 years ago, in 1999, as the church's first female minister.
In addition, she is only the 17th person to hold this leadership position in 376 years and delivered a sermon before the dedication of the bell in which she held an imaginary reunion with all of her predecessors.
"I started off by saying, 'We're going to have a service, and we're going to dedicate our bell,' and one of them said, 'Is the Paul Revere broken? "" said Bluemel.
After explaining that this was not the case, she told the group that her parishioners had ordered a new bell because "we wanted to create something to represent this community, today. So we invited people to bring something that made sense to them that they could press into clay.
While the bell was originally cast in clay and then cast in bronze, the posts supporting it were made from slabs of clay that were rolled into columns and fired.
Objects that parishioners sunk into the surfaces of the columns ranged from natural items like seashells and pine cones, to personal tokens such as wedding rings or a piece of lace, to religious symbols from various traditions. Collectively, they reflect the fact that Unitarian universalism is "what I call a big tent religion," Bluemel said.
"The carvings on the two poles, the clay itself, really show that inclusiveness," she said.
The post-sermon celebration wasn't as big as they'd planned before the pandemic, Putnam said, but it was still festive.
"We didn't have a birthday cake, but we did have bell shaped cookies, individually wrapped, and it was fun," she said. "We had birthday hats."
They also dedicated the bell using water that parishioners collect each September, bringing a vial to church that represents an important experience they had over the summer.
"The water is collected and sterilized and we use it for dedication ceremonies or various rituals throughout the year," Putnam said. "So we had our holy water and daisies that we cut in our garden. Everyone got a daisy and dipped it in water and anointed the bell.
Members of the ward also hit the bell with a wooden mallet, which was fashioned from the branch of a century-old sycamore tree that sits behind the church.
"It looks like a club," Putnam said. "The younger and older members present had the opportunity to ring the bell. "
One thing that was evident from those shots was that the new bell, like Paul Revere's, made a wonderful sound.
"He's got a nice tone," Putnam said. "It's rich. Depending on where you hit it, it has a slightly different tone, and it rings – it keeps its tone – for quite a while.