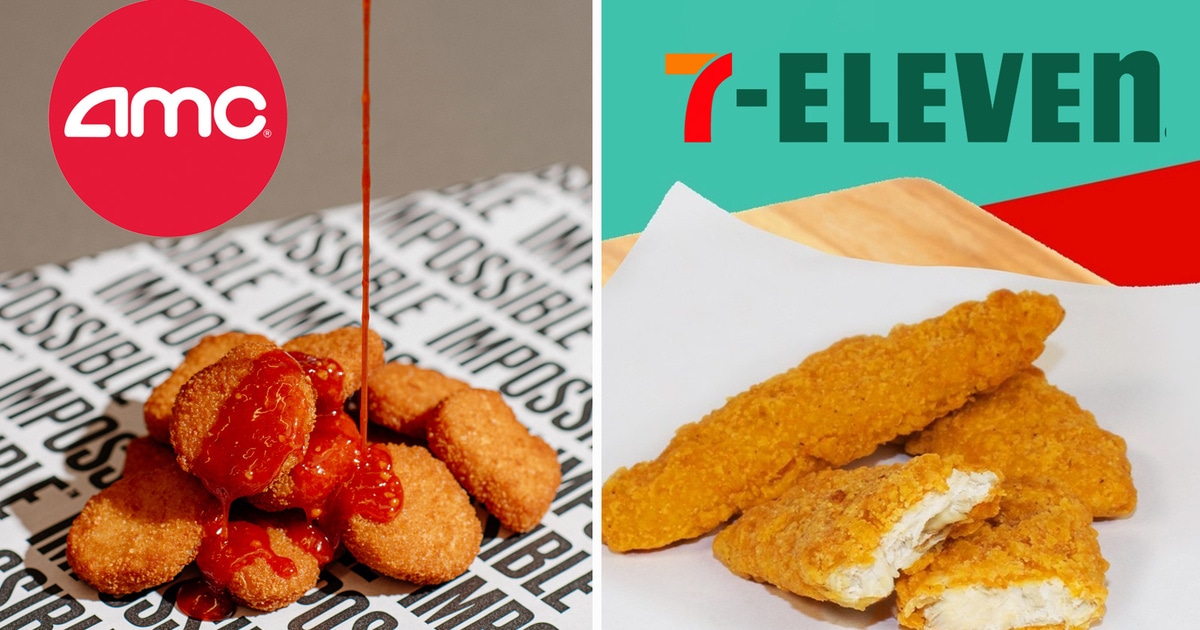 7-Eleven and AMC Theaters Embrace Meatless Chicken and Other Vegan Food News of the Week
It seems like every week in the world of vegan food news is more exciting than the last and this week is one for the books. The vegan chicken has spread its wings, landing in AMC theaters nationwide, 7-Eleven hot menus in Canada and, of course, KFC's 4,000 locations. Hot dogs also had a great week, with Wienerschnitzel adding three vegetarian dogs to its nationwide menus. And vegan seafood has had a few defining moments this week. Read on to find out more.
Vegan chicken hits KFC, AMC and 7-Eleven
This week, all of our vegan chicken dreams came true. Not only has KFC expanded Beyond Fried Chicken to its national menu at 4,000 locations nationwide, but other parts of the ready-meals universe have also branched out into meatless chicken fun.
At AMC, moviegoers can now enjoy vegan chicken nuggets made by Impossible Foods while enjoying a movie. The new soy nuggets first arrived in stores and restaurants, including select Burger King locations, last year and are the first plant-based chicken product developed by better-known Impossible Foods. for its Impossible Burger.
7-Eleven stores in Canada also jumped on the vegan chicken bandwagon this week with the launch of Lightlife's Vegan Chicken Tenders. Available at the convenience chain's 600 locations across Canada, Vegan Chicken Tenders are reheated in the oven and come out grilled in minutes. Lightlife's new vegan chicken is part of 7-Eleven's Healthy To Go menu, designed to help Canadians find healthier, plant-based options.
Wienerschnitzel becomes meatless
Wienerschnitzel is the biggest hot dog chain in the world and this week it became the best when it added three vegetarian dogs to its menu nationwide. The dogs are made with the Signature Stadium Dog, a smoked vegan sausage created by vegan brand Field Roast from a blend of pea and bean proteins. Its signature smoky flavor comes from double smoking using maple hardwood chips and a combination of steam and dry heat.
Wienerschnitzel first tested Field Roast's hot dog on select menus last February and after selling a large number of vegetarian dogs, the chain made it permanent additions to its menu. You can now get the vegan Barbeque Veggie Dog (served with barbecue sauce, pickle spear and onions) and the Chicago Veggie Dog (topped with pickle spear, tomatoes, sport peppers, onions, relish, mustard and celery salt). Wienerschnitzel also offers the Backyard Veggie Dog (topped with American dairy-based cheese, pickle spear, tomato, ketchup, and mustard) and it can be ordered vegan omitting the cheese.
Breakthroughs in Vegan Seafood
Industrial fishing is wreaking havoc on our oceans, and once it's gone…we're going. Luckily, some really big innovators are looking to take fish out of the seafood equation by creating equally good plant-based alternatives.
This week, the vegan seafood space hosted salmon burgers from Good Catch Foods, which already makes a host of fish-free products such as Perfect Salad Tuna in Pouches, Breaded Fish Sticks, Fritters crab and fish burgers. The brand's blend of six pulses is again the base of its new salmon burgers, which also feature a dash of citrus to balance out its oceanic flavor.
Another huge innovation in vegan salmon was unveiled this week by Israeli startup Plantish. While the startup is only six months old, Plantish has already managed to achieve the impossible: a whole cut vegan salmon fillet that tastes, flakes and cooks just like the real thing. The start-up has just raised $2 million to develop its concept and will showcase it at pop-ups later this year with the aim of producing whole vegan salmon fillets at scale and at low cost by 2024.
New dairy-free ice cream to love
Although the new vegan chicken, hot dogs and seafood are all tasty news, we will never forget the dessert. This week, Magnum bolstered its existing vegan ice cream portfolio with a new Non-Dairy Hazelnut Crunch flavor that features a decadent hazelnut ice cream base with salted caramel swirled all over, which is dipped in caramelized hazelnuts and non-dairy chocolate. dairy. Magnum has also launched tiny bite-sized vegan ice cream bars in a diverse assortment of classic and almond flavors, all coated in that crunchy chocolate shell.
Magnum isn't the only brand launching new vegan frozen treats this week. Ben & Jerry's has gotten very creative with its new line of pints created to look like classic American sundaes, including a vegan flavor designed to celebrate Veganuary. The Non-Dairy Berry Revolutionary features a raspberry ice cream base with chocolate sandwich cookies and chocolate cookie swirls, and is topped with non-dairy soft whipped ice cream with caramel swirls and chocolate chunks.
Although this flavor is currently only available in the UK, when we pressed Ben & Jerry's about a US launch, they gave us an ambiguous (but perhaps hopeful): " we never know ". In the meantime, we'll just To obligate indulge in the two new vegan flavors (Bananas Foster and Boom Chocolatta) that Ben & Jerry's just launched in the US last week.
Vegan cookies for Veganuary
Want some half-Veganuary cookies? You're in luck because Insomnia Cookies just expanded its vegan selection to include two new options: Chocolate Banana Bread Cookie and The All the Above Cookie (which is loaded with chocolate covered pretzels, coconut and chocolate chips White and Black).
These cookies are only available for Veganuary and join Insomnia's three existing vegan flavors – Chocolate Chunk, Double Chocolate Chunk and Birthday Cake – which the delivery service launched in 2020. The best part? You can get those sweet circles of joy delivered until 3 a.m. because insomnia (almost) never sleeps.
For the latest vegan news, read:
Sandwich Chain Blimpie Just Launched Its First Meatless Meatball Sub
Keto named the least healthy diet of the year. How was the vegan ranking ranked?
Plant-based protein equals whey for building muscle, new study finds
Main photo credit: Katelyn Perry
JUST LAUNCHED! Vote for your favorite vegan products in the 2022 VegNews Veggie Awards.
Vote now
JUST LAUNCHED! Vote for your favorite vegan products in the 2022 VegNews Veggie Awards.
Vote now