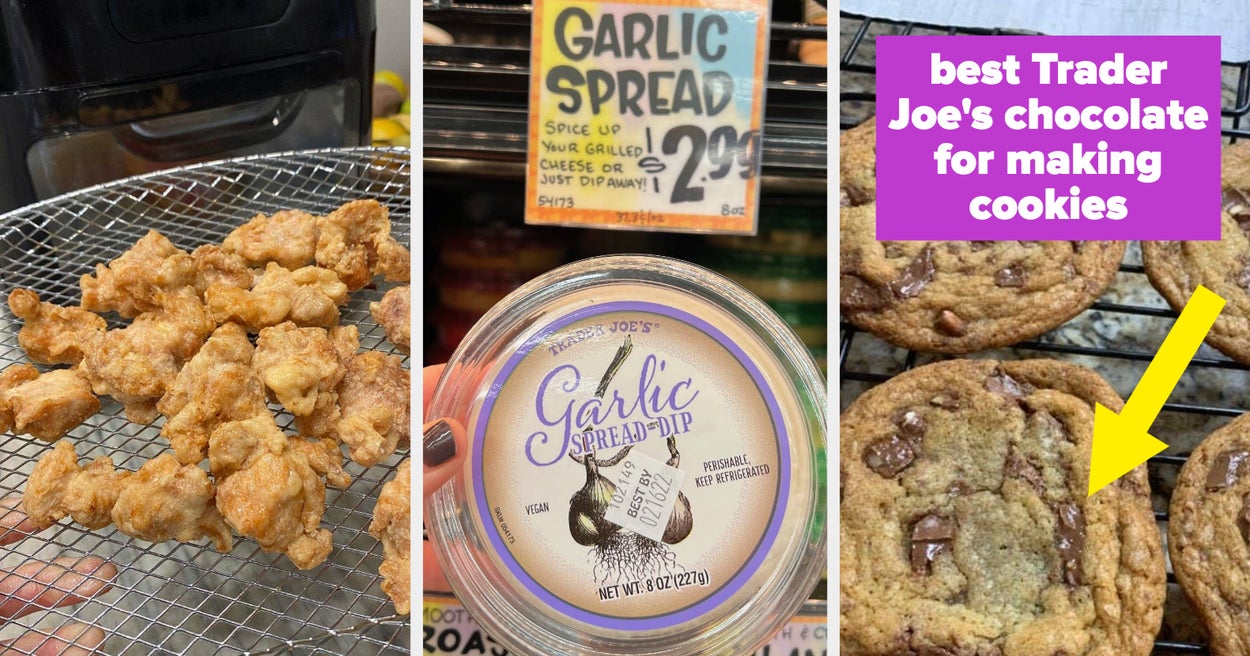 29 Genius Ways to Use Popular Trader Joe's Ingredients
Ditch the mandarin chicken sauce and make this instead.
If you (like me) shop at Trader Joe's often, you know there's more to this magical market than meets the eye. There are many creative and delicious ways to use TJ's most popular products.
So I scoured the r/traderjoes subreddit and compiled some of the smartest tips for using your favorite products. Plus, I've added a few of my own. Here are some ingredient tips you'll probably want to try.
1.
Reheat Trader Joe's Tangerine Frozen Chicken, but omit the sauce. Instead, coat it with your favorite sauce, such as buffalo sauce, garlic parmesan, or lemon pepper. These are basically amazing boneless wings.
2.
Use the garlic spread as a pizza sauce (try it with sausage and leeks), or spread it on baguette and pop it in the oven for a shortened garlic bread.
3.
Turn Trader Joe's pre-made pizza dough into a French baguette.
4.
Air frying nearly all of Trader Joe's frozen foods makes them exponentially crispier and more delicious. Set your air fryer to the temperature listed in the oven instructions and assume you can reduce the cooking time by about 25%.
5.
Instead of marinara or alfredo sauce, reheat Trader Joe's Frozen Spinach & Artichoke Dip and toss it with your pasta.
6.
Instead of buying the Hatch Chili Mac 'n' Cheese, buy the regular mac and cheese and add a heap of Hatch Chili Salsa. It gives you a lot more bang for your buck in terms of cheese.
seven.
Use TJ's Organic Coconut Smoothie as the base for a creamy, delicious (and dairy-free) smoothie. Add any of your favorite ingredients like bananas, blueberries, nut butter and more.
8.
Turn a can of tuna and a can of Greek chickpeas with parsley and cumin into the easiest, most filling two-ingredient meal.
9.
Microwave the Milk Chocolate S'mashing S'mores for about 10 seconds. Toss them between graham crackers and you have the fastest s'mores ever (no fire necessary).
ten.
For anyone who loves both onion crisp chili and skin care, save your empty Chili Onion Crunch jars and remove the labels. They are the perfect size to fit cotton rounds.
11.
Instead of tortillas, try using frozen Taiwanese green onion pancakes as taco shells, especially filled with scrambled eggs and hash browns for breakfast.
12.
Replace your average sandwich bread with frozen garlic naan bread and say hello to the best grilled cheese sandwich ever.
13.
Stuff wonton wrappers with Trader Joe's Smoked Salmon Dip and air fry until crispy for a drool-worthy two-ingredient party app.
14.
Add chunks of Pound Plus Milk Chocolate Bar with Caramel, Pretzel Pieces and Sea Salt to your chocolate chip cookie dough for next-level cookies.
15.
Use Trader Joe's Seasonal Butter Puff Pastry instead of classic batter to make the richest, fluffiest waffles ever.
16.
Mix the Italian Bamba sauce with mayonnaise and brush it on sliced ​​bread. It makes the absolute best spicy mayonnaise. After trying it once, you won't be able to enjoy a sandwich without it.
17.
Turn TJ's crunchy, crunchy chocolate chip cookies and frozen dark chocolate "Gone Bananas" into the most delicious mini ice cream sandwiches.
18.
Trader Joe's Ube Mochi Pancake & Waffle Mix is ​​also the perfect batter for making mochi donuts. Shape them then fry them in oil, bake them in the oven or do them in the air fryer.
19.
Turn frozen Brazilian cheese bun into chewy, cheesy, gluten-free sliders filled with everything from smoked salmon and goat cheese to ham and cheese.
20.
Bake TJ's mochi cake mix in muffin tins for about 28 minutes at 350°F for the most envious muffins ever.
21.
Combine Artichoke Jalapeño Dip, half a tub of Chili Corn Salsa, and Elote Seasoning to taste for the perfect spicy, savory, and sweet party dip.
22.
Turn ready-to-bake pizza dough into insanely good garlic knots. Just shape the dough into small balls, top with garlic and Parmesan, and bake.
23.
Use a carton of Trader Joe's Roasted Red Pepper Tomato Soup to make a casserole. Try a casserole of unstuffed peppers with ground beef, a casserole of tacos, or better yet, a casserole of grilled cheese and tomato soup.
24.
Chicken Tender Buns in Crushed Elote Corn Chip Dippers to instantly get out of your boring chicken rut.
25.
Rather than enjoying it as a dip, use Island Salsa to marinate anything from chicken to fish (like mahi mahi) for a main dish with a Hawaiian twist.
26.
Sprinkle Green Goddess seasoning over sour cream and chill for at least half an hour in the refrigerator. It's even better than the ranch.
27.
Try dipping Bambas peanut snacks in jelly for the ultimate snack from PB&J.
28.
Take a container of Trader Joe's Zhoug Sauce, toss it with breadcrumbs, and use it as a crust for everything from pork chops to lamb. If the breadcrumbs don't stick, add a thin layer of Dijon mustard over the Zhoug.
29.
Reheat coconut shrimp or breaded fish nuggets, then wrap them in tortillas for the easiest, crispiest restaurant-quality shrimp or fish tacos.
Do you have a favorite Trader Joe's ingredient hack that people should know about? Tell us in the comments below!