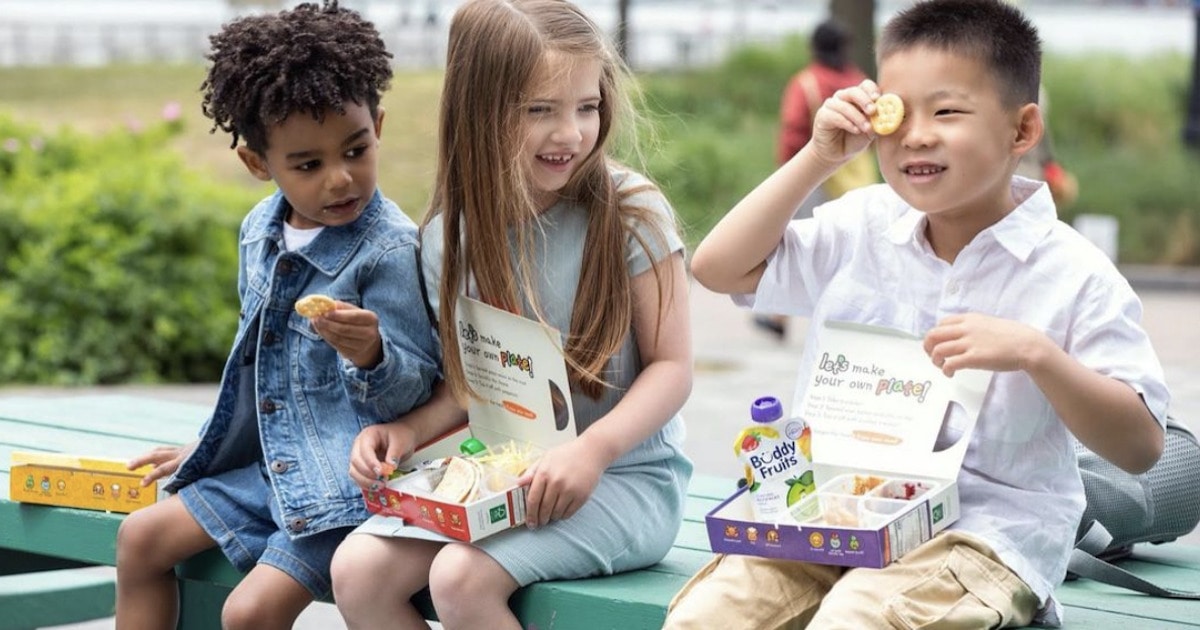 10 easy-to-pack vegan school lunches
Following in the footsteps of Pumpkin Spice, it seems school starts earlier every year. After going through a year of school Zoom and cooking three meals a day, the best intentions of sending the kids off with an Instagram-worthy lunchbox filled with fruit cut to look like flowers and sandwiches painstakingly put together to look like a favorite animal are gone. Now the standards align more with "if it's vegan and it fits in the box, it's fair game". No doubt parents will want to rely on some store-bought staples to support their children in school. Here are 10 vegan foods that are easy to carry and pack in a school lunch box.
Let's Plate Co
1 Vegan lunches
Today's parenting generation grew up on Lunchables, pre-portioned, shelf-stable kids' foods packaged in compartmentalized plastic containers. In 2021, kids don't have to settle for mystery meat circles with assorted crackers and "cheese product" cheese. Enter Let's Plate. The non-GMO brand offers vegan versions of Lunchables bestsellers, including the pizza variety and the ham, cheese and crackers plate. Each box comes with vitamin D infused gummy bears and a 100% fruit squeeze pouch. Parents, there's no judgment if you pack one for yourself for the good old days.
Find it here
Split feeding
2 Peanut butter and jelly packets
Parents, learn from your own parents' lack of foresight. We all opened a lunch bag to discover a crushed and soggy peanut butter and jelly sandwich. Worse still, it is made with the heel of the bread, which is nothing more than a crust, perhaps the least appetizing carbohydrate in the eyes of a child. Do your child well. Give them the tools to build their own sandwich. Split Nutrition makes a super convenient perforated package that has nut butter on one side and jelly on the other. Pack two slices of bread (with the crusts cut off, please and thank you!) and avoid soggy sandwich disaster.
Find it here
Justin's
3 Nut butter and vegetable snacks
Not all lunches call for sandwiches; sometimes the children like to graze. First off, if this is your kid, know that he'll likely grow into an adult with a taste for expensive vegan charcuterie boards. For now, feed their snacking preferences by packing a packet of Justin's Nut Butter, a few celery sticks, and a mini packet of raisins. Tada – assemble your own ants on a log.
Find it here
Ripple
4 Individual portion soy or pea milk
If a teacher or classmate asks your child where he gets his protein, all he has to do is hold up a single-serving carton of soy or pea milk. Both contain eight grams of protein – the equivalent of cow's milk served for serving – and most brands fortify their children's drinks with calcium and vitamin D. Try Ripple's On the Go Pea Milk Carton in original, vanilla and chocolate.
Find it here
Miyoko Creamery
5 Vegan cheese sticks
It's hard to send vegan kids out into the world alone. We don't blame them for wanting to eat exactly what their friends eat, but those foods usually come from animals. Luckily, there's a quality, plant-based match for most packaged foods, including cheese sticks. Launching in May 2021, Miyoko's Plant-Based Cheddar Sticks will help your child feel included at the lunch table while providing two grams of protein. You may want to carry an extra for sharing purposes. Spread the plant word through vegan cheese!
Find it here
Maxine's paradise
6 Cookies without allergens
Yes, Oreos are vegan, but should kids eat them every day? Probably not. Send your kid off with something sweet without loading them with sugar (their teachers will thank you). Maxine's Heavenly makes two packs of cookies that are free from refined sugar, gluten and animal products. Flavors range from Cinnamon Oatmeal Raisin to Chocolate Chocolate Chunk (yes, double the chocolate). Partake is another fantastic allergen-free cookie brand with nut-free flavors including cookie butter and birthday cake. These cookies are another item that parents may want to pack in their own lunch.
Find it here
Sabra
seven Hummus cups
Virtually every major hummus brand makes a single-serve cup. These shelf-stable chickpea spread packages can serve as the cornerstone of a healthy, vegan bagged lunch. Just add baby carrots, a solid fruit, a carton of non-dairy milk and maybe a candy bar and you're good to go. Brands to watch include Sabra, Good & Gather (Target's own brand) and Kirkland Signature.
Find it here
Beads
8 Sachets of olives in individual portion
Either you were the kid or you knew the kid who couldn't get enough olives (we were the first). Olives are packed with healthy, unsaturated fats, making them ideal foods for the brain. Pearls is one of the more accessible brands that make single-serving olive packages. Find them on Amazon or most major supermarkets.
Find it here
Vegan in a big box
9 Yogurt tubes
Much like Lunchables, the Go-Gurts of Modern Parents' Youth have been veganized. Yoplait's signature squeezable yogurt now comes in a dairy-free option made with coconut milk. Parents can find them at retailers such as Albertsons and Target. Just be sure to pack a bag of ice – not that yogurt spoils, but room temperature yogurt isn't the most appetizing option. Your child will thank you.
Find it here
Tofurki
ten Vegan deli slices
Pack your child with protein by packing a few slices of vegan deli meat with their lunch. Sure, you could make a sandwich, but most kids are happy to snack, whether a piece of deli meat is between two slices of bread or not. Field Roast, Tofurky, Mia and Simple Truth (Kroger brand) all offer a range of quality vegan deli slices that are perfect for school lunches.
Find it here
For more kid-friendly vegan dishes, read:
6 ways to get your kids to eat more vegetables
7 Vegan Options for Classic Kids Food
Jessica Biel launched a plant-based wellness brand for kids
JUST LAUNCHED!
Vote for the 2022 awards for the best vegan ice cream in the United States.
VOTE HERE
JUST LAUNCHED!
Vote for the 2022 awards for the best vegan ice cream in the United States.
VOTE HERE